5-Year MD Program: An Overview
Important Note For All The Students Enrolled/Enrolling After 18th November 2021
For Indian Students:
The entire five year course shall be conducted at Guyana in the University campus which includes one year of preclinical sciences , two years of Paraclinical sciences and two years of clinical sciences programme inclusive of clinical rotations in our affiliated hospitals at Guyana viz Georgetown Public Hospital and St Joseph Mercy Hospital.
The Indian students also have an option to undergo an observation practice at Max Healthcare, during their vacations/semester breaks to gain the relevant competencies and familiarize themselves with the disease profile and the healthcare delivery system prevalent in India.
The eligibility criteria for students to travel to Guyana for pursuing their medical education remains unchanged viz, NEET qualification is mandatory and eligibility criteria for NEET have to be fulfilled as laid down by competent authorities from time to time.This is essential for all students who wish to return to India and be eligible for appearing for FMGE/ NEXT Examination.
For International Students:
The eligibility criteria for the International students enrolling/enrolled at the Lincoln American University, School of Medicine, remains unchanged and is subject to the Medical Council of their respective country.
If the parent Medical Council of their country approves, the students can avail the benefit of undergoing clinical rotation in the leading hospitals of Nepal, India, the USA,etc
Lincoln American University offers the MD program of international standard. Curriculum of LAU's MD program including Basic Sciences and Clinical Rotations is based on MD in USA and is designed in consultation with the doctors, healthcare professionals and leaders in the research sectors to specifically meet the licensing requirements in the US and other nations including India, UK, Canada, and many others so that after MD graduation from LAU, students can practice in the country of their choice.
LAU offers complete medical training using modern technology and its modern and well-equipped infrastructure, coupled with experienced faculties, practical training help students become global practitioners of medical sciences with requisite skills and knowledge to meet the current and future needs of the patients and the changing healthcare sector around the world.
Throughout the MD program, LAU also provides its students USMLE (The United States Medical Licensing Examination) coaching & training to make it easier for the students to qualify the USMLE and enter residency or fellowship programs in the United States.
Total duration of LAU's MD program is 5 years & can be bifurcated into 3 sections:
| | | |
| --- | --- | --- |
| 1st Year | 2nd & 3rd Year | 4th & 5th Year |
| Pre- Clinical Program/ Basic Foundation for Medical Sciences | Basic Sciences & Para Clinical Program delivered through a system -based approach | Clinical Sciences together with rotations in various departments of the affiliated hospitals |
| Know More about Pre-Clinical Program | Know More about Para -Clinical Program | Know More about Clinical Sciences Program |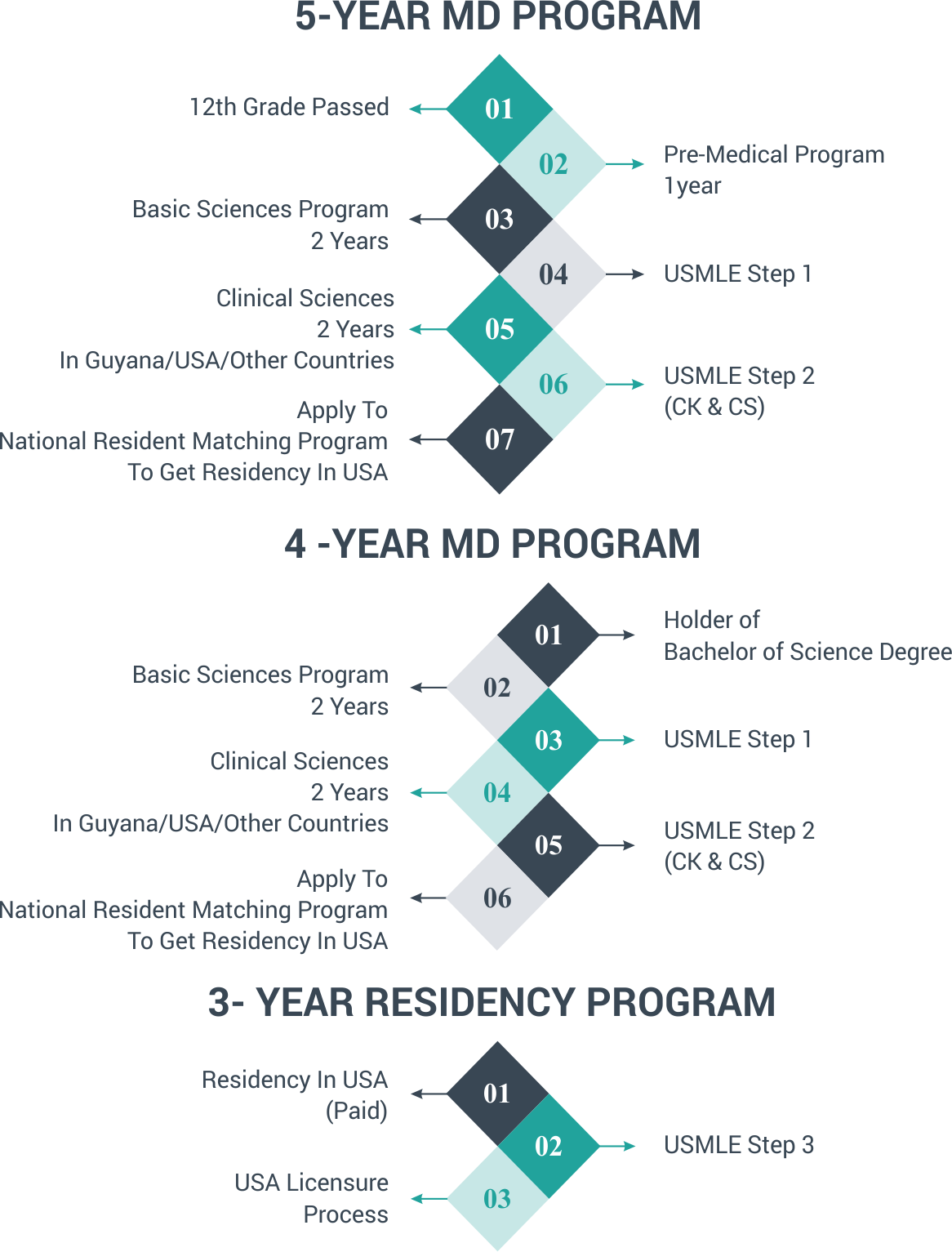 LAU is one of finest Caribbean medical schools to pursue MD in America, listed in the World Directory of Medical Schools (WDOMS), registered with National Accreditation Council of Guyana (NAC, Guyana), certified by Education Commission for Foreign Medical Graduates (ECFMG), USA and empaneled by erstwhile Medical Council of India (MCI).
With LAU 5-year MD program, a medical aspirant needs to give just 5 years of dedication and perseverance to Lincoln American University to turn out to be a successful doctor!
To all the medical aspirants - what are you waiting for? Enroll right away, Join LAU, a leading Guyana medical college, kickstart your MD in Guyana and embark your journey of becoming a doctor!