Explore Guyana
Guyana - The Natural Heaven On Earth!
Guyana, officially known as the Co-operative Republic of Guyana is a Caribbean country in South America. Guyana is a very strong nation politically, culturally as well as historically and is blessed by nature!
Guyana gained independence from the British rule in 1966 and officially became a republic within the Commonwealth in 1970. Each year 26 May is celebrated as Independence Day in Guyana.
Georgetown, the capital & largest city of Guyana is home to the secretariat headquarters of Caribbean Community (CARICOM), an organization focused to promote co-operation and economic integration among its member Caribbean nations.
Guyana is one of four founding member of CARICOM and is a full member of CARICOM. Guyana has been designated as More Developed Country by CARICOM.
Guyana is also a member of the Union of South American Nations joining it in 2008 as a founding member.
Culture in Guyana
Culture in Guyana is great which is made greater by the diversity of different ethnic groups and religions prevalent in the country. In Guyana, you can find Indians, Africans, Chinese, European among other groups with religions like Christian, Hindu, Muslim etc.
Cultural diversification of Guyana and the friendly attitude of Guyanese make Guyana a welcoming place for any person on the planet. While Christmas and New Year are two most celebrated occasions in Guyana, celebration of festivals like Diwali, Holi and various others makes Guyana a land of celebrations & inclusion too!
Naturally Rich Guyana
Mount Ayanganna in Guyana is the highest mountain in Guyana with a height of 6,696 ft. Essequibo river which is 1010 kilometers long is the longest river in Guyana. Guyana hosts one of the largest rain-forests in South America which provides shelter to many-many species.
Historical Sites in Guyana
Guyana is well-known for its historical sites like St George's Anglican Cathedral, a historic Anglican Cathedral made of wood in the 19th century, Georgetown City Hall, a beautiful wooden structure often described as the "the most picturesque structure", Demerara Harbour Bridge, the fourth-longest floating bridge in the world, and many more.
Language in Guyana
Official language of Guyana is English which makes Guyana the only English-speaking country in the South America region. English is used for all the administrative and government functioning, for education, media and all other services in Guyana.
Transportation in Guyana
Guyana houses two international airports, and has well-developed and maintained highways and railways. Guyana is one of the three nations in South America which drives on the left.
Many modes of commute like taxis/ cabs, buses, river boats, ferries etc. are available throughout the Georgetown city and other urban areas of Guyana operated under well-regulated fare system. For students commute, University bus service is available.
Education in Guyana
Education system of Guyana is based on the British Education System and maintains a literacy rate of 88.5%.
Sports in Guyana
In Guyana, people enjoy many sports activities like cricket, football/ soccer, volleyball, basketball etc. Gifted with natural beaches, beach cricket is also a great source of joy for the people in Guyana.
Cuisine in Guyana
Food in Guyana is a mix of cuisines in India, China, Africa, British and all other regions from where people have come with their own suitcase of taste!
In Guyana, one can find diverse kinds of food cuisines like Dal Bhat, Chinese Food, Roti, Curry with Guyanese own set of beverages made of fresh fruits and vegetables.
Guyana's Currency
Guyanese dollar (GY$) is the official currency of Guyana. Exchange rates as on February 19, 2019 are:
Guyana's Climate
Blessed with a tropical climate, Guyana has two rainy seasons: from late April to mid-August and from mid-November to mid-January. Temperature in Guyana keeps floating from 24°C to 31°C while average temperature is 27°C which makes Guyana climate a pleasant experience for all time.
A bit more about Guyana
Cricketers from Guyana plays as part of the West Indies Cricket Team for international cricket.
More than 40% of the population in Guyana comprises people of Indian Origin.
The name Guyana means "land of many waters" in a Native American language referring to the many rivers running through the country.
The original Demerara sugar cane grew in the region of the Demerara River in Guyana.
Guyana is the only Commonwealth state on mainland South America.
The capital of Guyana is Georgetown. Georgetown is also a neighborhood in Washington D.C., USA as well.
Flag of Guyana is known as "The Golden Arrowhead".
St. George's Cathedral, a wooden church built in 1892 & located in Georgetown is a national monument of Guyana and one of the tallest wooden structures in the world.
The Kaieteur Falls in Guyana is believed to be the world's widest single-drop waterfall.
"One people, One Nation, One Destiny" is national motto of Guyana.
Guyana in numbers
There are 7 wonders in the world and here are 7 wonder numbers explaining wonderful Guyana:
40% of the Guyanese people comprises people of Indian Origin.
88.5% is the literacy rate of Guyana.
1966 is the year in which Guyana won independence from British Rule.
1970 is the year in which Guyana officially became a republic.
6,696 ft. is the height of the tallest mountain in Guyana.
1010 kilometers is how long the longest river of Guyana flows.
1892 is the year in which St. George's Cathedral, a wooden church was built, now the national monument of Guyana and one of the tallest wooden structures in the world.
Primary thing to do in Guyana
When a student is here in Lincoln American University in Guyana as a medical aspirant, the primary thing to do is to study hard and focus on the medical education in the University because the primary reason for him/her to be in Guyana is to get quality medical education and become a great doctor!
Other things to do in Guyana
Students can relax and rejuvenate themselves by going for site seeing and paragliding. Students can visit Radha- Krishna Mandir, Providence Masjid and St. George Cathedral Church. Students can enjoy and have a fun time in the City Mall. They can also explore different places like Guyana National Museum, Pomegranate garden, Non- alignment Monument etc. They can indulge in various activities like Biking, Mountaineering, horse- riding and untamed adventures.After all, Guyana has got countless experiences for you to enjoy!
Apart from getting quality medical education with modern technology and education infrastructure, library full of medical treasure, fully-equipped campus, safe & furnished hostel facilities, laboratories including anatomy lab, computer lab, biotechnology lab, cafeteria and good food, Students
life at Lincoln American University
is blessed with the delightful experience of
living in Guyana
, diverse culture, and indulgence in extracurricular activities & group trips for relaxation from the stress of studies which makes journey of becoming a doctor an enjoyable experience and imbibe memories that they cherish for the rest of their life, personally, socially as well as professionally!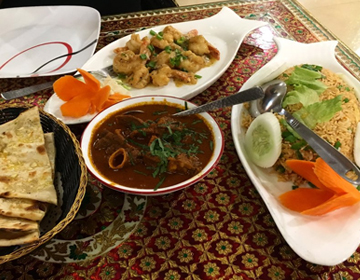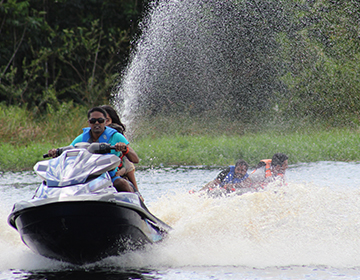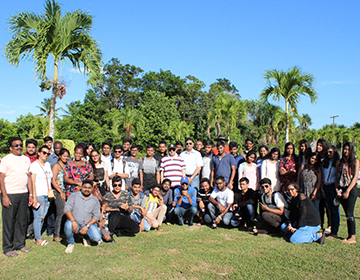 LAU is one of the finest medical universities to pursue
MD in South America
, listed in the World Directory of Medical Schools (WDOMS), registered with National Accreditation Council of Guyana (NAC, Guyana) and Foundation for Advancement of International Medical Education and Research (FAIMER), certified by Education Commission for Foreign Medical Graduates (ECFMG) and recognized by Medical Council of India (MCI).

The medium of instruction at LAU is English and the course curriculum is designed according to the best
medical universities in the Caribbean Islands
, including
MBBS in West Indies
, MD in South America and MD in USA.

Being located in Georgetown, students at Lincoln American University pursue
MD in Caribbean
in an environment of delightful Guyana experience, diverse culture, and indulgence in extracurricular activities & group trips for relaxation from the stress of studies. Being located in Georgetown, students at Lincoln American University pursue MD in Caribbean in an environment of delightful Guyana experience, diverse culture, and indulgence in extracurricular activities & group trips for relaxation from the stress of studies.

For medical aspirants looking for a
medical college in America
, Lincoln American University is one of the finest choices!

To all the medical aspirants

What are you waiting for? Enroll right away, join Lincoln American University, a leading
Guyana medical college
, kick start your
MD in Guyana
and embark your journey of becoming a doctor!