MD In Guyana
Important Note For All The Students Enrolled/Enrolling After 18th November 2021
For Indian Students:
The entire five year course shall be conducted at Guyana in the University campus which includes one year of preclinical sciences , two years of Paraclinical sciences and two years of clinical sciences programme inclusive of clinical rotations in our affiliated hospitals at Guyana viz Georgetown Public Hospital and St Joseph Mercy Hospital.
The Indian students also have an option to undergo an observation practice at Max Healthcare, during their vacations/semester breaks to gain the relevant competencies and familiarize themselves with the disease profile and the healthcare delivery system prevalent in India.
The eligibility criteria for students to travel to Guyana for pursuing their medical education remains unchanged viz, NEET qualification is mandatory and eligibility criteria for NEET have to be fulfilled as laid down by competent authorities from time to time.This is essential for all students who wish to return to India and be eligible for appearing for FMGE/ NEXT Examination.
For International Students:
The eligibility criteria for the International students enrolling/enrolled at the Lincoln American University, School of Medicine, remains unchanged and is subject to the Medical Council of their respective country.
If the parent Medical Council of their country approves, the students can avail the benefit of undergoing clinical rotation in the leading hospitals of Nepal, India, the USA,etc
Lincoln American University, Guyana, offers to you and aspiring doctors worldwide an affordable opportunity to pursue International-Standard MD Program and study medicine in Guyana, a naturally blessed country and a tiny slice of heaven on earth!
The Medical Program of Lincoln American University is an exciting opportunity to fulfill your medical dreams and step forward towards a career of your choice. The university takes all kinds of essential initiative to provide its students absolute best in every possible area.
What Is The Difference Between MBBS In Guyana And MD In LAU?
First of all, there is absolutely no difference between the MBBS degree and the MD degree awarded after the successful completion of the undergraduate medical program at LAU.
In contrast to the common belief of MD being a postgraduate degree, MD program at LAU is equivalent to the MBBS in Guyana. The awarded degree of MD is equivalent to the widely accepted MBBS qualification which is an undergraduate program.
The MD program at LAU features the use of some of the best practices of the US curriculum, which is fruitful for the students who plan to pursue their career and further studies in the States. The complete curriculum is widely divided into 1+2+2 program, based upon all the essential skills of personal and professional development.
Salient Features Of Medical Program For MD In Guyana
The Medical Program offered by Lincoln American University is an international-standard MD Program (equivalent to MBBS in Guyana) based on the US medical curriculum and recognized in various countries worldwide, including India, USA, and Canada.
Here are some of the salient features of the program for MD/MBBS in Guyana:
US-Based Medical Curriculum
Curriculum of the LAU MD Program is designed by a team of expert medical professionals based on best medical practices followed for medical education across the Caribbean, and the United States. Our benchmark curriculum ensures that you get the best possible medical education in the South America region.
USMLE Centered Approach
United States Medical Licensing Examination or USMLE is the three-step examination, which is required to be qualified to get licensed for medical practice in the US.
Here is an overview of all the three USMLE Steps along with eligibility criteria:
Particulars

Eligibility Criteria (Relevant Excerpt)

How Are LAU Students Eligible For USMLE?

USMLE Step 1

Students, who are officially enrolled in or are graduate of a medical school outside the US and Canada which is listed in the World Directory of Medical Schools (WDOMS) and which also meets ECFMG eligibility requirements and criteria, are eligible to apply for USMLE Step 1 as well as USMLE Step 2.

LAU is listed in WDOMS and also fulfills the eligibility requirements and criteria of ECFMG. Therefore, LAU students are eligible for USMLE Step 1 as well as USMLE Step 2. With University support, our students can prepare well for USMLE Step 1 and Step 2 during the MD Program and qualify both the steps by the time they complete their medical graduation

USMLE Step 2 (Clinical Knowledge)

USMLE Step 2 (Clinical Skills)

USMLE Step-3: Day 1 (Foundation of Independent Practice - FIP)

Students who have passed USMLE Step 1 and USMLE Step 2 [Clinical Skills (CS) as well as Clinical Knowledge (CK)]; hold MD (or its equivalent; like MBBS) degree from WDOMS listed medical school outside the US and Canada, and possess ECFMG Certification are eligible to apply for USMLE Step 3.

LAU meets all the requirements established by ECFMG and is also listed in the WDOMS. By the time LAU students complete their medical graduation, they can have the first 2 steps of USMLE already qualified. Then, after completing their MD Program, LAU students can apply for ECFMG certification and then apply for USMLE Step 3.

USMLE Step-3: Day 2 (Advanced Clinical Medicine - ACM)
Besides fulfilling USMLE eligibility requirements, LAU helps its students prepare for USMLE with the medical curriculum which strictly adheres to USMLE requirements along with support and guidance from USMLE qualified professors. LAU has collaborated with Kaplan Medical, the world's leading provider of USMLE preparation facilities, to help its students prepare for the US medical licensing examination.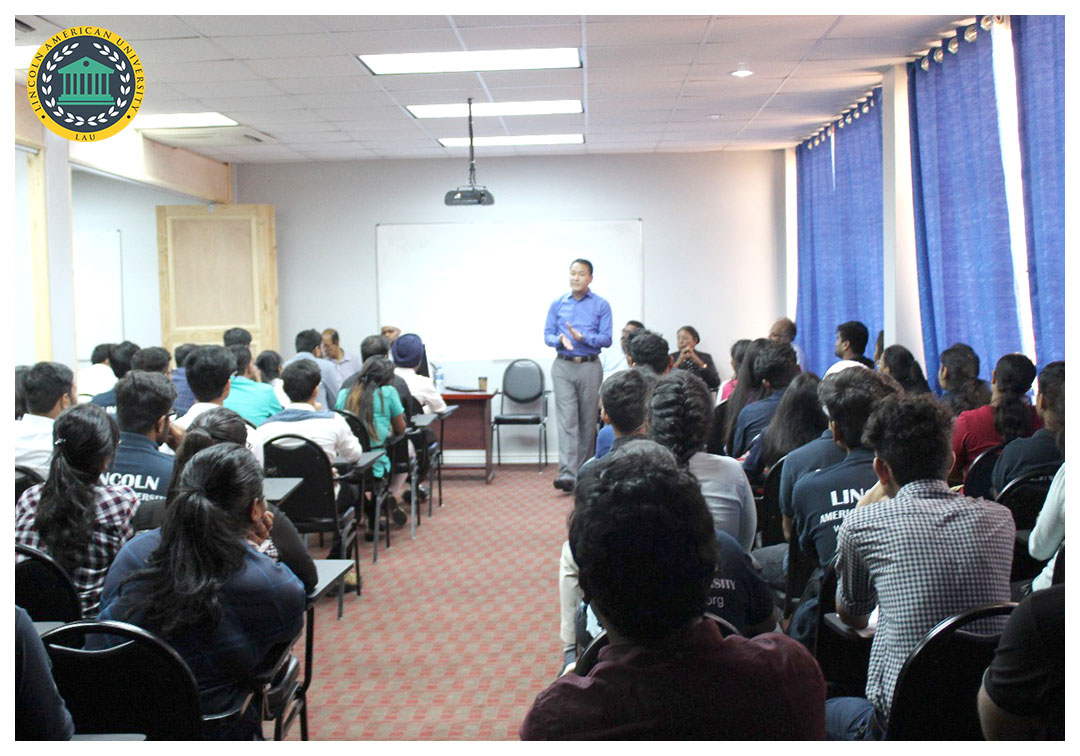 Dr. Tenzin Jamyang, the Faculty and International Recruitment Manager from Kaplan Medical, world's leading facilitator of USMLE preparation, guiding students during USMLE seminar arranged in Guayana Campus.
All the LAU students enjoy extended access to Kaplan's Special USMLE Preparation Program, which gives them the confidence as well as the knowledge they need to crack one of the most prestigious medical examinations in the world!
English Medium
At LAU, the medium of instruction is English. The entire course is taught in no other language but English! Further, in Guyana, English is the official language. That means if you know English (quite sure, you do!), you can communicate with all the people not only in the University but across Guyana, without your tongue holding you back! That's one of the biggest advantages of pursuing MD/MBBS in Guyana – you don't have to learn any new language.
Special Focus On Research
MD Program of LAU is designed in a way that offers various research opportunity to our medical students. In the campus, we have got state-of-the-art laboratories equipped with modern equipment. Our students are involved in various research projects to let them unleash their true potential, advance existing treatments and patient care system, and innovate in the field of medicine. We also arrange group discussions, presentation sessions, and research exhibitions in the University campus to facilitate the exchange of information. Exhibitions are also arranged to let the students showcase projects that they are working on! Such a competitive environment helps our students stay focused and stay ahead in their medical learning.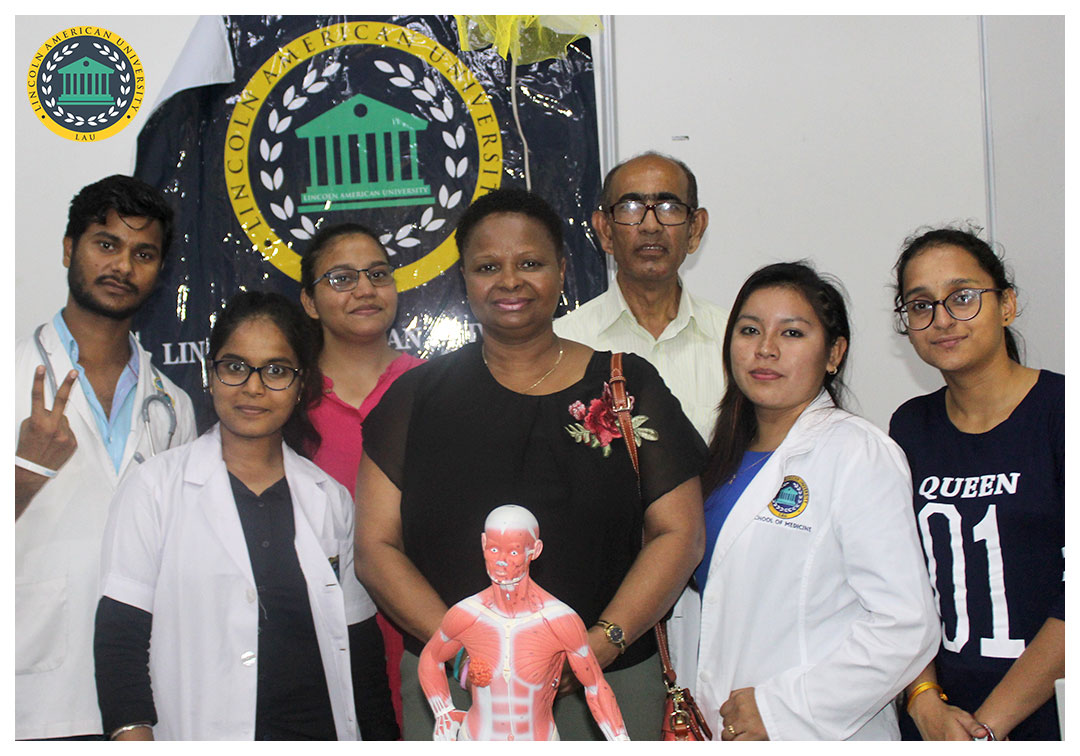 Dr. Tenzin Jamyang, the Faculty and International Recruitment Manager from Kaplan Medical, world's leading facilitator of USMLE preparation, guiding students during USMLE seminar arranged in Guayana Campus.
International Clinical Clerkship
Last two years of the MD Program comprise clinical rotations or clinical training. Clinical training is one of the most important aspects of becoming a doctor and marks the official entry of aspiring doctors in the pragmatic world of medicine.
Our Students During Clinical Visit in Guyana
To provide our students with the best possible clinical training, we have collaborated with some of the most reputed hospitals across countries in Asia, the Caribbean, with developing opportunities in Canada, USA, countries across Africa, and other regions worldwide.
Duration Of The Program
Before going into the duration of the program, let's go through the sub-programs that comprise the MD Program.
Pre-Medical Program: Pre-Medical Program or Basic Foundation for Medical Sciences Program is a one-year program. In true sense, Pre-Medical Program is not a part of the MD Program, but a system-based prelude program to the MD course which offers school pass outs an opportunity to get direct entry into the MD Program right after their schooling without going for an undergraduate degree! The pre-medical program bridges the gap between school level education and expertise required to pursue the rigorous MD curriculum. Pre-Medical program is held in University's Guyana Campus with fresh batches starting in January, May, and September
Note for Indian Students: For students from India, who have qualified NEET (National Eligibility Cum Entrance Test), Pre-Med Program is arranged in Guyana. For students from India, who are yet to qualify NEET, Pre-Med program is arranged in India along with a facility for NEET coaching.
Basic Sciences Program or Pre-Clinical Program: Basic Sciences Program is a 2-Year program focused on problem-based learning. The program is held in University's Guyana Campus. During this program, students get the in-depth knowledge of basic medical sciences and a deeper understanding of various principles of disease, therapy, ethical and legal issues concerning the practice of medicine. During Basic Sciences Program, special focus is given for the development of strong academic and research base so that students can make the most of the clinical training in the final phase of MD Program, i.e. Clinical Sciences Program.
Clinical Sciences Program: Clinical Sciences Program or Clinical Rotations Program offers a unique opportunity to get clinical training in University affiliated hospitals and get a glimpse into life as a doctor! During clinical training, students visit hospitals, observe learned doctors, interact with hospital staff and patients under expert guidance, learn to analyze lab data and various medical reports, and assist the senior medical professionals from patient care to serious operations. After completion of the clinical training of two years, international students qualify as an International Medical Graduate (IMG) or a Foreign Medical Graduate (FMG) and become professional doctors.
Depending on the level of qualification of the candidate, duration of the MD Program can be 4 years or 5 years (including 1-Year Pre-Medical Program):
| | |
| --- | --- |
| 4-Year MD Program | 5-Year MD Program |
| Students holding an undergraduate degree from science background are not required to undergo the Pre-Medical Program and are directly admitted to 4-Year MD Program [2-Year Basic Sciences Program + 2-Year Clinical Sciences Program]. | Students who are keen to enroll in the MD Program right after school are required to qualify the Pre-Med Program first. So, for school pass outs, the duration of the program is 5 years [1-Year Pre-Medical Program + 2-Year Basic Sciences Program + 2-Year Clinical Sciences Program]. |
Benefits Of Studying MD/MBBS In Guyana
With 150+ students from different countries worldwide who are pursuing medicine at our Guyana Campus, we are proud to be one of the finest and fastest growing medical universities in Guyana and the entire Caribbean region, offering exclusive benefits to our students which are extended with the support of Guyana:
Affordable Cost
Living cost of Guyana is very affordable compared to that off other countries like USA, Australia, Canada, New Zealand, etc. Affordable housing, food, and other utilities make sure that you complete your medical education in Guyana without digging a deep hole in your bank account (or the bank account of your parent/guardian)! Further, to get admission, you don't need to pay any capitation or donation fees because medical seats are allotted based on merit and first-come-first-serve basis.
Hassle-Free Admission Process
To get enrolled in the medical program in Guyana, you don't need to go through an entrance examination or wait for months in the admission queue! All you need is a decent score in your school examinations (plus NEET qualification, in case of Indian students) and a desire to become a doctor. Once you contact the University for admission, you are assigned with a dedicated Admission Advisor who assists you through the entire admission process.
Holistic Package
Lincoln American University in Guyana not only offers the facilities for quality education but also make arrangements for safe and comfortable accommodation along with mess facility. While studying in Guyana at Lincoln American University, you will be sure to stay focused on your education and personal growth.
Globally Recognized Qualification
Medical education from a well-recognized medical university is recognized at a global level. Among other recognitions, Lincoln American university is approved by Medical Council of India (MCI), listed in World Directory of Medical Schools (WDOMS), and certified by Educational Commission for Foreign Medical Graduates (ECFMG). So, medical qualification of LAU is not only valid in Guyana, but in countries like India, United States, Canada, and other regions worldwide. After completing your medical graduation in Guyana, you can qualify country-specific licensing examinations and start your medical career in the country of your choice.
Glorious Career
During the Clinical Sciences Program, you will get the opportunity to pursue clinical training in cross-border countries across Asia, Caribbean, Africa, Canada, US, and other locations. Clinical training in different countries helps you understand the various diseases and healthcare requirements from an international perspective, preparing you for the practice of medicine at a global stage.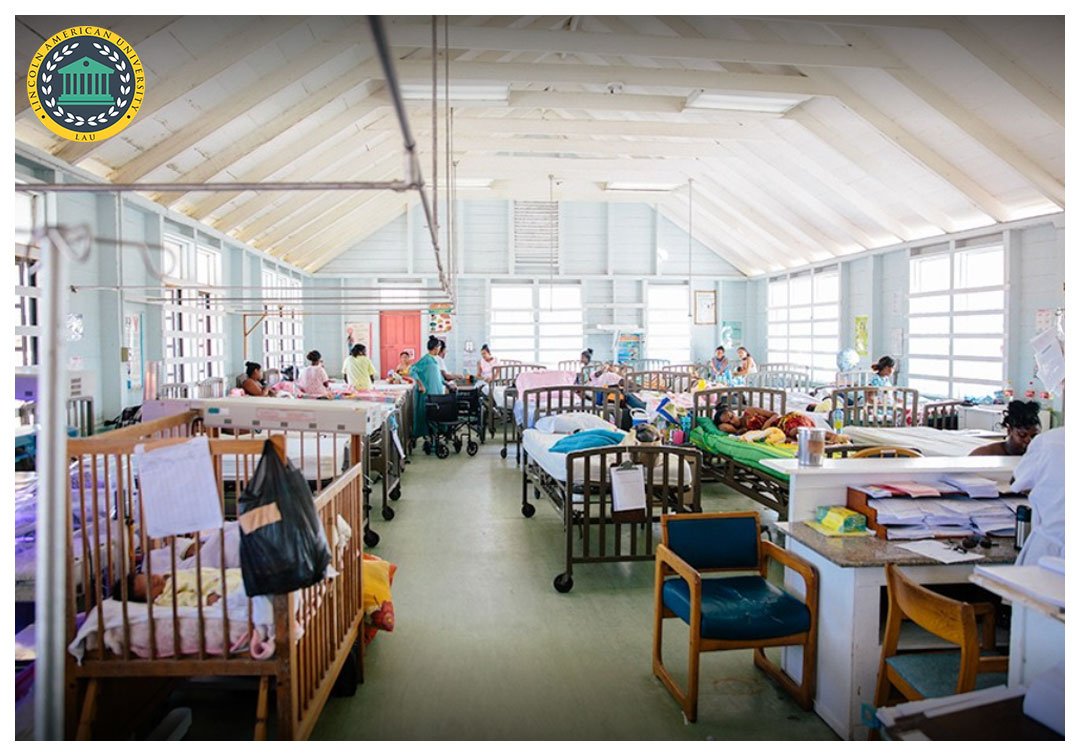 Georgetown Public Hospital, Guyana
Caribbean Lifestyle
Guyana is a naturally blessed country popular among tourists worldwide. With its tropical and pleasant climate, proudly mountains, beautiful beaches, and pristine beauty, Guyana feels like paradise on the planet Earth. Besides nature, Guyana is known for its delicious cuisines, ample recreational facilities, a community of diverse people, joyful festivals, and a great and lively culture where the environment is calm yet vibrant. If you pursue your MD in Guyana, this beautiful country will be your home for the next five years.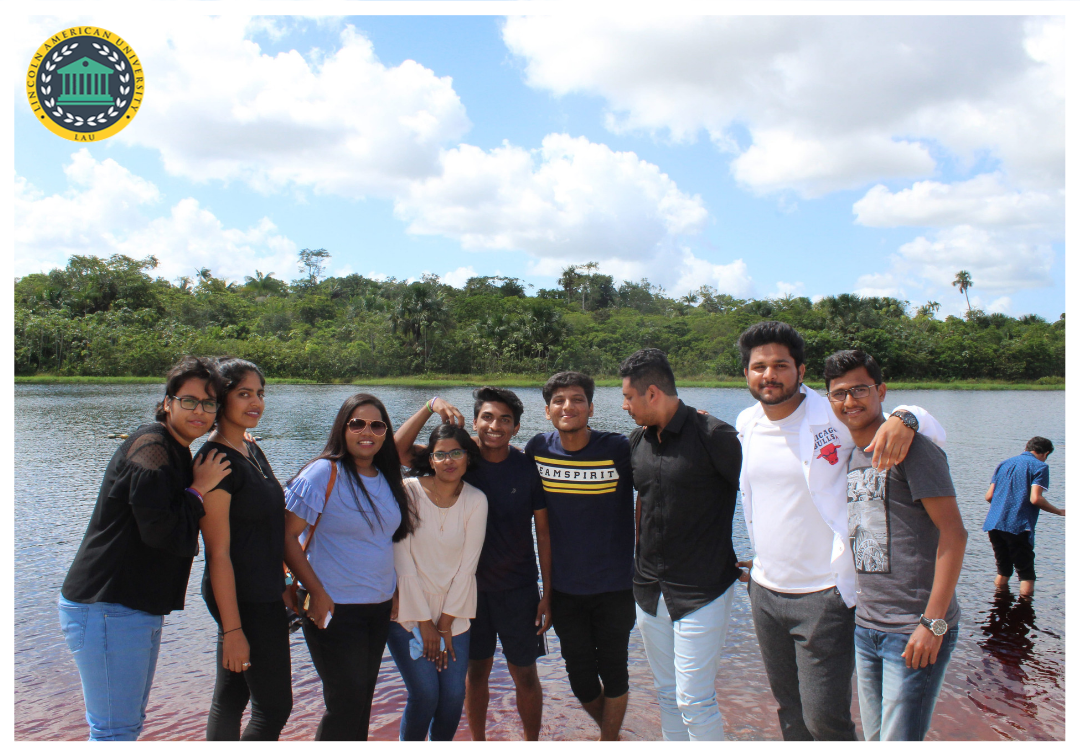 Our students on a day trip in Guyana.
Medical Licensing Exam Preparation Facilities
We believe in providing education at present, for the future. Considering the importance of qualifying medical licensing examination after completion of medical graduation, we arrange for preparation facilities of various licensing examinations like MCI screening test (for medical practice in India), and USMLE (for medical practice in the United States and other countries worldwide). Besides offering the benchmark curriculum, we support our students in the preparation of licensing exams well ahead of time so that they can qualify the exams with peace of mind and become eligible for medical practice in the country of their choice.
English Is Official Language
While we mentioned this point earlier in the context of the medium of instruction, it's worth mentioning again in the context of the language of the country. In Guyana, the official language is English. That's a major advantage compared to countries like Russia and China where you need to learn a new language to study, deal with your patients, and have a chat with people in general. If you are familiar with English, you will be able to communicate with Guyanese from day one, without any language issues! The English language also saves you from the burden of learning a new language while pursuing your medical education.
All-Round Growth
In Guyana, there is no lack of extra-curricular, sports, and non-academic activities which are extended by medical outreach and welfare program organized by the University. While quality medical education shapes you into a good doctor, the ambiance of Guyana shapes you into your better being ensuring that you grow in all aspects of your life!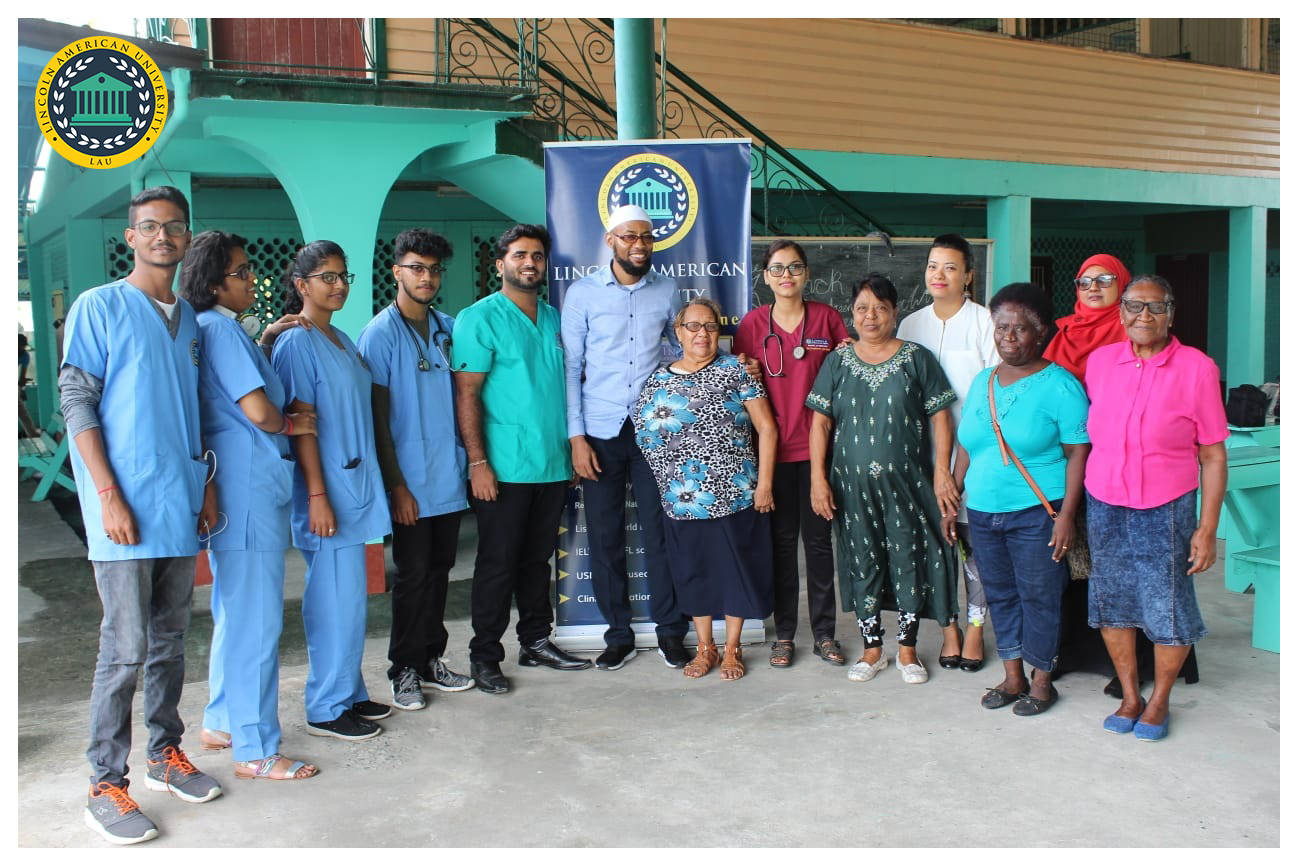 Our students on a day trip in Guyana.
MD In Guyana, At Lincoln American University: Gateway To Your Dream Medical Career
We cherish Guyana so much that we can continue the list of Guyana's praise forever, deservingly. Well, we will stop here! By now, you know that Guyana is a great country, and in recent years, Guyana has also become a medical education hub for aspiring doctors hailing from diverse parts of the world. If you are an aspiring doctor looking for a medical university, let us assure you that MD in Guyana is one of the finest options you can ever found due to its unmatchable combination of affordable cost, benchmark quality, a great life, and global opportunities. If you would like to study medicine in Guyana or want to have answers on questions that are still unanswered in your head, feel free to contact our team of expert counselors and take the next step towards your medical career.