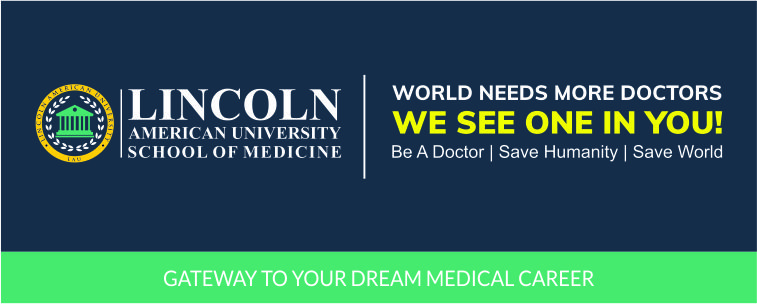 Hello Doctors, Doctors-To-Be!
A lot has happened in October! NEET 2020 results got out. Some students got through while others were left with the option to prepare again. To help you all, we held live counseling sessions, admission expos, and seminars.
Without further ado, let's have a quick glimpse of what we all did in October and explore the 5-year MD pathway for all students—NEET qualified as well as NEET unqualified—and get prepared for bouncing back to success:
#1 Bounce Back To Success: Message from Vice-Chancellor.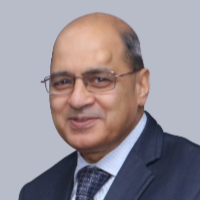 Dear, Students!
NEET 2020 results have been out in October. And today, I congratulate all students who got through this one of the most prestigious medical entrance exams — Welcome to the next step of the MD program!
To students who could not pass the exam this time, I would like to say that one negative result is not the end of your career. It's not a certificate of your abilities either. Let me tell you: In my 40+ years of career as a healthcare professional, I have failed many times. Yes, in academics as well. However, every time I failed, I bounced back with greater efforts and commitment, became a doctor, serving my community even now for more than 40 years.
Results don't define us. It's our reaction to results that make us who we are. Don't take NEET disqualification as a failure. Instead, take it as an opportunity to learn that life does not always go as planned, and sometimes your success is delayed — Then, you need to bounce back. So, don't be disappointed. Get up, make your new plan, work on it, and make it happen in the next attempt.
To help you all with your NEET preparation as well as the MD program, we have collaborated with Sharda University. So, we are providing all aspiring doctors with a second chance to complete NEET together with a 1-year pre-medical program in India, pursue a 4-year MD program after that, and become a doctor in 5 years from now.
Remember, life is all about the second chance. I believe in you. You'll bounce back to success.
Wish you all success.,
AVSM, VSM, and BAR (Retd),
Former Director-General of Medical Services (IAF),
Vice-Chancellor, Lincoln American University
#2 Play USMLE Quiz November 2020🎓
USMLE Step 1 Quiz for November 2020 is out today. Play the quiz online. It will hardly take 5 minutes. Study questions carefully and play with peace of mind. We hope to see you score 5/5!
#3- Celebrating NEET 2020 Winners!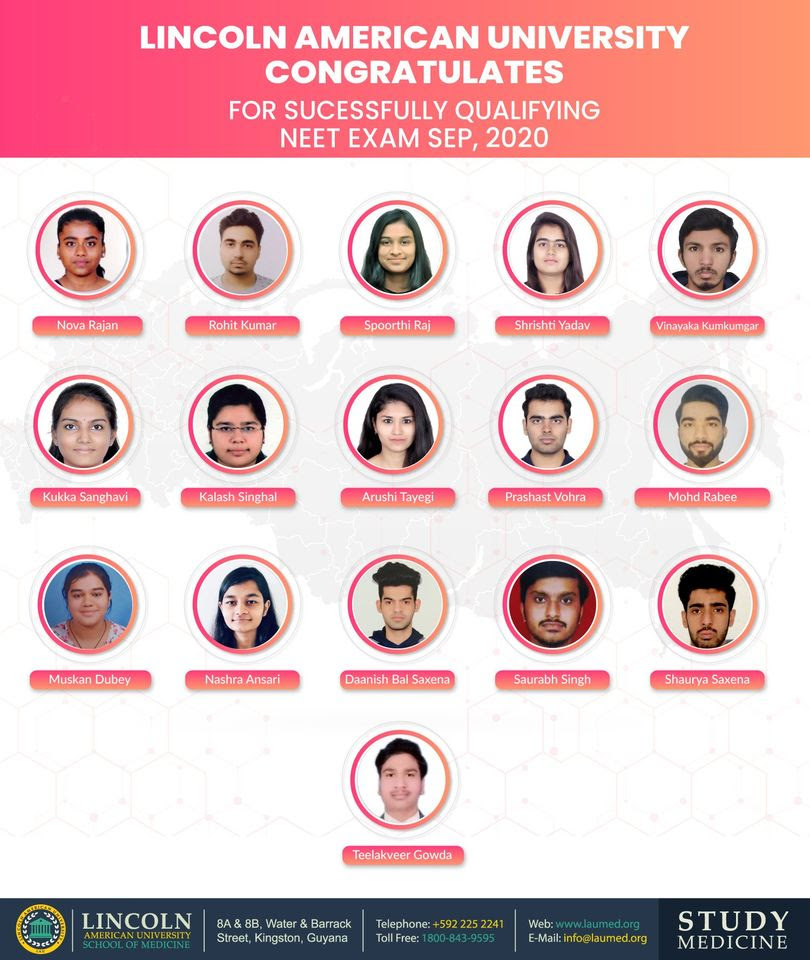 We congratulate all our 16 students who qualified the NEET 2020 exam and now well on their way to the next level of the MD program, i.e., Basic Sciences Program in Guyana.
Congrats, Students! Our Georgetown Campus awaits you with a new life, memorable experiences, and a challenging-yet-exciting journey to become a doctor.
#4 Yes, Your Medical Dreams Stand A Chance.
We initiated LAU with the belief that all aspiring doctors deserve an opportunity to make their dreams come true. We feel proud to have developed a pathway medical students can walk upon and become healthcare professionals to heal the world.
In an advertorial interview with Financial Express, LAU Vice-Chancellor Air Marshal (Dr) Pawan Kapoor further talked about what makes LAU different as an institution and what efforts we are putting in to empower you to become competent, compassionate, and caring doctors. Have a read and explore the LAU opportunities for yourself:
#5 Meet Teelakveer: Qualified NEET + Pre-Med In One Year!
Teelakveer Gowda, Qualified NEET + Pre-Med In One Year.
"If you want to achieve a good medical career in your life, then Lincoln American University is one of the best." — Teelakveer Gowda
#6 For Those Who Didn't Qualify NEET 2020:
-First of all, don't be disappointed. You gave it a shot but could not get through. That's okay. We all miss our shots at one point or the other.
The good news is that you still have the opportunity to start your medical program along with NEET preparation and become a distinctly qualified doctor in 5 years from now. Explore the 5-year pathway to become a doctor:
#7 Cheers To The Winners For USMLE October 2020 Quiz!
Total 102 students played the USMLE October 2020 Quiz. We appreciate all students who participated and tested their knowledge.
Out of 102 participants, two students—Athina and Gyabaah Evans— got the highest score this month, i.e., 5/5. We congratulate Athina and Gyabaah with a huge round of👏 👏 👏!
If you didn't score well this month, don't panic. Prepare even better and play the November quiz. You can achieve better.
#8 Career Options After NEET 2020.
No matter how many marks you have secured in your NEET 2020 exam, we have got a pathway for you to become a doctor.
In this live session, LAU Admission Officer Mr. Abhijeet will walk you through the medical career opportunities available to you after NEET 2020 exam based on different marks scenarios. It's worth your 15 minutes.
#9 Clinical Rotations: What You Need To know?
Clinical Rotations are one of the most vital-and-exciting aspects of your journey to becoming competent healthcare professionals. Since you are a medical student, you must be aware of the different aspects of clinical rotations. That's why we prepared "Clinical Rotation: Definite Guide With All You Need To Know" covering:
What are Clinical Rotations?
How are Clinical Rotations different from the rest of the medical education?
Why are Clinical Rotations important?
Types of Clinical Rotations.
How to prepare for Clinical Rotations?
Clinical Rotations offered by Lincoln American University.
#10 Virtual MBBS Admission Expo's Here!
October 21-22; those two days have been incredibly fulfilling as we participated in the Virtual MBBS Admission Expo to help aspiring doctors get expert admission counseling and secure online admission to the MD program.
If you missed the Expo, don't worry. Our counselors are just a call away on 1800-843-9595. To get admission, you can also file your application online.
#11 COVID-19: 6 Vaccines Got Emergency Approval.
The number of COVID-19 vaccine candidates that are under development stands at more than 100 now. While all eyes are set on the cure to COVID, it's still not confirmed when we'll get one. Most probably, in 2021, Quarter 2.
Though the future of COVID-19 cure looks blurred, there is a shining light of hope given the encouraging trial results of vaccines under development, 6 of which have got emergency approval — 2 in Russia, 3 in China, and 1 in the U.A.E.
💊 COVID 19 and Thromboembolic Episodes.
There is a high incidence of venous thrombo-embolism, in particular pulmonary embolism in hospitalized serious COVID 19 patients. These thrombotic complications have occurred despite the use of both prophylactic and/or therapeutic anticoagulants. COVID-19 afflicted patients are at risk for macro-thrombosis. They exhibit all the three components of Virchows Triad i.e. Stasis of Blood Flow, Hyper-coagulability and Endothelial Injury. The same is diagrammatically represented below:
Pathological reports suggest that COVID-19 afflicted patients also have considerable micro-thrombosis, or immuno-thrombosis, related to hypoxemia, endothelial injury, and inflammation. Many cases of COVID-19 get pulmonary embolism in the absence of Deep Vein Thrombosis and the emboli are located in the more peripheral pulmonary arteries. This phenotype is characterized by thrombi and not emboli, i.e., immuno-thrombosis.
A report of 66 patients in the Intensive Care Unit, who received standard-dose thrombo-prophylaxis, found only a 5% rate of Venous Thrombo embolism (VTE) that was not thought to be either catheter-related thrombosis or immuno-thrombosis. Increased doses of anticoagulants may be ineffective in such cases, especially since larger doses are not recommended for other forms of microangiopathy. This could be the reason why some small reports found high rates of VTE even among patients who were given full-dose anticoagulation. Upstream therapies, such as antiviral and immunomodulating agents, seem to have a role to reduce the development of immuno-thrombosis, and may prove more efficacious than downstream attempts to suppress the coagulation system. Extended thrombo-prophylaxis would yield a net benefit only if the risk of symptomatic VTE is more than 1.8% after hospital discharge. [Source: NEJM.org]
✨ Happy Dussehra 2020!
The Victory of the Good over the Evil is always destined to happen, and the auspicious occasion of Dussehra reminds us of this principle of almighty very well.
Those who walk on the right path and do the good work in service of humanity are the ones who find peace, happiness, and the true meaning of life. So, this Dussehra, let's commit to walking upon the right path, no matter what, and always strive to do good for ourselves and our community. That's what Dussehra should be about: Happy Dussehra and cheers to the victory of good over evil.
🧩COVID-19 Quiz [The Answer Is Hidden In Text of This Newsletter.]
As per expert estimates, when can we expect a viable COVID-19 vaccine available to us?
A. 2021 Quarter 1
B. 2021 Quarter 2
C. 2021 Quarter 3
D. 2021 Quarter 4
😂 For A Good Laugh: