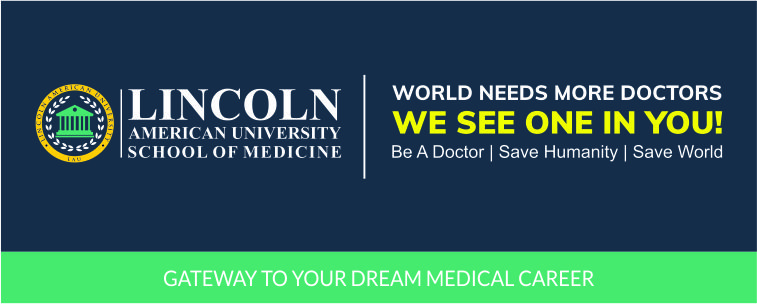 Hello Doctors, Doctors-To-Be!
In April, we hit another milestone with the start of our very first elective clinical rotations in Guyana, met the Health Minister of Guyana, and celebrated World Health and Malaria Day by committing to WHO's initiative of building a fairer and healthier world for everyone. Let's take a glimpse of all of that and more:
#1 "How Can I Help?": A Message From Vice-Chancellor.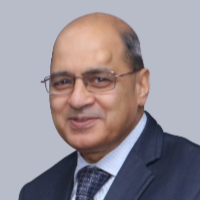 Dear Students,
As you all know, Corona's second wave is going on and the situation is only going to get worse before we see an improvement.
To fight back, while governments and healthcare authorities are running the vaccination drives and the medicare system is working on 100% capacity and even overworked, we need to ask ourselves one question – "How can I help?"
Yes, governments and healthcare workers are not the only ones responsible to fight this COVID-wave. It needs awareness and contribution from each one of us and a shift in our mindset from "what they can do for us" to "what we can do for them." It also reminds me of what Great John F. Kennedy said once: "Ask not what your country can do for you—ask what you can do for your country."
In this tough time, you can help in more ways than you think possible to make the situation better. First, take care of your health by following all the precautions to stay protected from the virus. This will not only keep you safe but will also help stop the spread. Second, do your duty as a student. Yes, for healthcare and economic progress in the future, the world needs more doctors. And for that, doctors-to-be like you must devote 100% focus on their studies. Third, help the people around and the community in all possible ways. Be emotional support of each other and extend a helping hand wherever you can.
These small bits of help might seem too narrow to you but when combined, they will have a synergy impact so unimaginable, so positive, and so powerful.
So, my dear students, I urge you all to start asking yourself – "How can I help?" And, help your community in every way possible for you. I know this is a tough time, but trust me, by helping each other and navigating through this storm together, we'll come out stronger to live our brighter and happier days ahead.
In order to keep you academically stimulated, this time we have included a separate section on the much-debated role of CT chest in diagnosing and assessing the severity of COVID infection. Please go through it. It will not only educate you but remove your doubts also.
Best wishes,
Air Marshal (Dr) Pawan Kapoor
AVSM, VSM, and BAR (Retd),
Former Director-General of Medical Services (IAF),
Vice-Chancellor, Lincoln American University
#2 Play USMLE Quiz May 2021🎓
USMLE Step 1 Quiz for May 2021 is out today. Play the quiz online. It will hardly take 5 minutes. Study questions carefully and play with peace of mind. We hope to see you score 5/5!
#3 Students Start Clinical Rotations at Joseph Mercy Hospital, Guyana!
13-April-2021 marked another milestone day in LAU's history when the first group of final year students began their elective clinical rotations at Joseph Mercy Hospital in Guyana. This clinical rotation features a little more in-depth study of not just the medical practice but also of the medical etiquettes and proceedings required amidst the recent global pandemic.
The orientation ceremony was led by Dr. Sonia Grey, Dr. Terry, and Dr. Stephanie Gittens. The students will experience working in various departments such as Dermatology, Urology, Emergency Medicine, Family Medicine, and ENT during this rotation. We wish all students the very best of luck in this new journey:
#4 A Special Meet: With Dr. Frank C.S. Anthony, Minister of Health, Guyana.
On 11-April-2021, LAU students got an opportunity to visit the Minister of Health, Guyana, Dr. Frank C.S. Anthony. The visit encouraged students to overcome any obstacle they might face while fulfilling their dream to become successful doctors and get motivated with inspiring words from Hon'ble Dr. Frank C.S. Anthony. A glimpse of the meet:
#5 COVID-19 Vaccine Is Live!
#6 Expand Your Mind: Read. Lead. Succeed.
Expand your mind and level up your thought process with stories handpicked for you this month:
#7 World Malaria Day: Reaching the Zero Malaria Target
In 2020, per WHO report, a number of countries reported zero Malaria cases while many countries are well on their way to becoming malaria-free! On World Malaria Day 2021, which is one of 11 official global public health campaigns currently marked by WHO, we celebrate this remarkable achievement and look forward to a Malaria-free world in the near future. This is to Zero Malaria Target:
#8 Story: Can You Sleep When the Wind Blows?
Once there lived a farmer who owned land along the coast of the Atlantic Ocean. Even after letting out several advertisements for recruitment to take care of his farm, no one seemed to sign up for it.
People were reluctant to work along the Atlantic, it had frequent raging storms. These storms were cruel, violent and destroyed every building and crop field they touched.
After months of advertising and request refusals, a man approached the farmer for the job to take care of the farm.
"Do you have any skills or experience to work on a farm like this?" - the farmer asked him.
"Well, I may not have enough experience, but I can sleep when the wind blows" - replied the man.
Although the farmer wasn't much convinced by the man's answer, the farmer was too desperate to have someone to help him on the field that he hired him anyway. The man worked well around the farm. The farmer was pretty satisfied with the man.
Then one stormy night, the wind howled waking the farmer. The farmer immediately got off his bed, grabbed a lantern, and headed towards the quarter where his helper was sleeping.
"Wake up," the farmer yelled, throwing the soundly asleep man off the bed. "A storm is coming. Tie things down before they get blown away" – said the farmer.
The man sat up and said - "No sir. I told you, I can sleep when the wind blows."
The farmer turned red with fury after listening to this. He controlled all his will to firing the man but at the moment it was more important to secure his fields and barn than to argue with his helper. The farmer ran out to tie the things up and was surprised by what he saw.
All of the haystacks were covered with tarpaulins. The chickens were in the coops, the cows were in the barn, the doors were closed and barred, and the shutters were firmly secured. Everything was tied down so that nothing could be blown away.
The farmer smiled as he comprehended what his employee said. Now, he understood what the man meant by when he said he could sleep when the wind blows. He went off to bed and slept soundly through the storm.
Takeaway: If you can prepare in advance for the difficult times ahead, you can navigate those times with peace. Preparation is the key to a stable future.
#9 Observing World Day for Safety and Health at Work.
For a happy and sustainable workplace, the safety and health of the workers must be ensured. World Day for Safety and Health at Work observed on April 28 recognizes the need for it. In the last year, COVID has changed the fundamentals of work as well as the ways of ensuring safety and health. Besides the big chunk of the world of work relying on telecommuting and remote working, here are few ways about how workplaces need to cope up with pandemic for their workers' safety and health:
On Jan-26, we observed the 72nd anniversary of our constitution, which turned India into a Republic on the remarkable date of Jan-26-1950. Besides being an occasion to express gratitude to those who fought for this liberty and republic, Republic Day is a day to remind us all that "WE, THE PEOPLE" are born equal, and we live in a nation that is free and where everyone gets the opportunity to be the very best of themselves. Happy Republic Day, India!
#10 Corona Times Update.
What can we do to contain the spread?
The world continues its war with the Coronavirus which has not shown any signs of abating. India is in the midst of an unprecedented upswing in the number of Corona cases. From a few thousands per month in March-end, India has peaked with counts rising to more than 400,000 per day and deaths going beyond 4000 per day. This simply underlines the fact that there should be no complacency and public health measures of wearing masks; physical distancing of 6 feet, hand and personal hygiene should continue to be stringently observed. The implementation of the vaccination program across the globe is off to a slow start in terms of populations concerned. To contain the spread of the disease and to prevent its mutants to continue to wreak havoc we have to prevent super spreader events by not contributing to them as well as to speed up the vaccine production and utilization. We are all in it together and we have to find solutions together. We all love our freedom, but we have to curtail our own freedom to jointly defeat the virus. This is a global war and each one of us is a warrior. We all have to play our roles effectively to win this war.
Role of CT in COVID 19:
It has been observed with concern that High Resolution Computed Tomography Scan is increasingly being used in COVID-19 either for diagnosis or else for ascertaining the severity for early introduction of steroids in the treatment. The primary purpose is to know the degree of involvement of the lungs and the onset or severity of the viral pneumonia.
What do you see in CT chest to diagnose viral pneumonia related to COVID?
You will see sub pleural and peri-bronchial ground glass opacities as below:
It will also reveal consolidation of the lungs and septal thickening.
What is CT Score?
There are two scores. One is CORADS score for diagnosis or the level of suspicion for COVID and the other is Involvement Score for ascertaining the severity.
For Diagnosis:
For Severity:
CT involvement score (CT-IS) is used for assessing chest CT images of COVID-19 patients. Each of the 5 lung lobes is assessed for degree of involvement, such as below 5% involvement is equivalent to a lobe score of 1, 5–25% involvement to a lobe score of 2, 26–49% involvement to a lobe score of 3, 50–75% involvement to a lobe score of 4, and above 75% involvement to a lobe score of 5. A whole lung CT-IS total CT-IS is met by aggregating 5 lobe scores (range of scores, 1–25). The same can be tabulated as under:
Note: Total Score is out of 25.
Advantage of Chest CT:
It can assist in early diagnosis in locations where RT PCR test facilities are limited or not still available to the extent needed.
It can predict the severity of disease by showing the percentage of lung involvement and thus assist in appropriate and optimal management, early preventing patient hospitalization, and mortality.
The Limitations:
The CT scans have two main risks:
The test may pick up a benign or incidental finding leading to unnecessary and possibly invasive follow up tests that could result in additional risks, costs and stress.
The increased possibility of cancer induction from X ray radiation. According to Harvard Health, a chest X ray delivers 0.1 milisievert (mSV) while a chest Ct delivers 7 mSV which is 70 times higher than a chest X ray
Conclusion:
CT Chest is definitely a good tool to use to assess the severity but with caution and only when necessary, especially so in the young wherein the cumulative exposure in the long run could cause genetic mutation which could lead to cancer in later life. CT could be used as a onetime measure to diagnose the involvement and severity but should not be used as a prognostic toll by doing repeated CT scans. The follow-up should be clinical rather than CT based.
11. Guyana Byte: Is Guyana an island Country?
You will be surprised to know that while is Guyana is (mis)considered by many people to be an island country, it's not! Guyana is surrounded by Venezuela, Brazil, and Suriname from three sides and the Atlantic Ocean from the fourth. So, Guyana is not an island country.
🧩 Quiz [The Answer Is Hidden In Text of This Newsletter.]
As of May 2021, how many official global public health campaigns are currently marked by WHO?
What's the reported efficacy rate of the Covishield COVID vaccine?
😂For A Good Laugh: