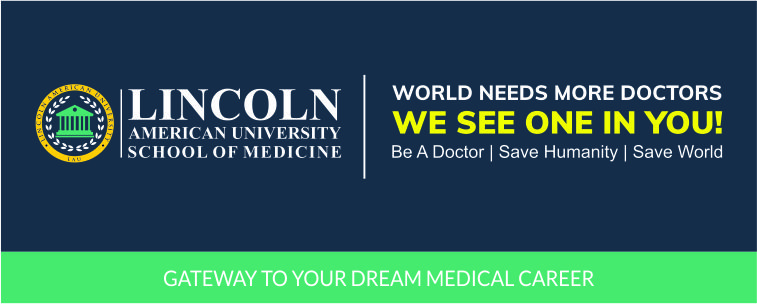 Hello Doctors, Doctors-To-Be!
The year 2020 has been a great start for us and a bright future for our students. At the start, we have got a 3-Year extension for the registration status of our University from the National Accreditation Council of Guyana, celebrated Republic Day of India with the High Commissioner of India to Guyana, and make a grand announcement too. Without further ado, let's dive right into what we did and what's next!
#1 Message from Vice-Chancellor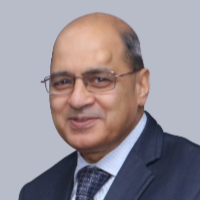 Greetings, Dear Students!
As you all know, we started Lincoln American University with a vision to bridge the gap between means and the ability to become a doctor by making medical education affordable for all medical aspirants and ensure the quality of education by maintaining world-class standards. We empower you to craft your medical careers in the country of your choice and rightfully call our institution "Gateway To Your Dream Medical Career."
This is a shared goal, and in that, we need your contribution as well. You are not just the students of Lincoln American University but its ambassadors as well, who will carry its name wherever you go in the future.
So, each one of us, let's put our best feet forward to achieve our shared goal, be a part of something bigger than ourselves, and prepare for a glorious future of our institution and yours. While this task is not easy, together, we can do it.
Best wishes,
AVSM, VSM, and BAR (Retd),

Former Director-General of Medical Services (IAF),
Vice-Chancellor, Lincoln American University
#2 Celebrations: 71st Republic Day of India
On January 26, on the occasion of the 71st Republic Day of India, students and members of the University participated in India's Republic Day Flag Hoisting Ceremony organized by His Excellency Dr. K. J. Srinivasa, High Commissioner of India to Guyana.
Our students performed dance, music, gave speeches, and got to hear the wisdom of H.E. Dr. K. J. Srinivasa on the history of India and ties between two great nations; India and Guyana.
#3 Collaboration with EDULANKA Study Abroad
To make it easier for medical aspirants in Sri Lanka, Maldives, and Malaysia to get admission to medical programs of Lincoln American University, we have collaborated with EDULANKA Study Abroad (ELSA). ELSA is a leading organization helping students in Sri Lanka and other countries to get admission to medical universities abroad.
Here are glimpses from the get-together organized at the University's office in Noida city of India on January 29, 2020, to celebrate the new collaboration:
#4 Meet Our USMLE Quiz III Winners!
Out of the 36 students who participated in the quiz, following four students scored 5/5 (Students' name listed alphabetically):
Hari Priya
Stacey Amate Ekpenyong
Sunday Jedidiah Godwin
Swapnil Radheshyam Sonawane
We congratulate all the winners. Keep it up! Those who could not make it up this time, don't lose hope. You tried, and that matters. Congrats to you too for taking participation in the quiz. Study further. We are sure that you will do better next time.
#5 USMLE Education Corner
Our Quiz IV for USMLE Step 1 is available now. Play the quiz online. It will hardly take 5 minutes. Winners shall be featured on the University's website and media profiles.
#6 Insights From Student: Five Before Five
Our student Toyib Amusa wrote a wonderful post, "Five Before Five," which features five essential lessons for the benefit of medical aspirants and every person who wants to excel in life.
If you have not got the insights yet, feel free to read the post right away:
#7 We Got NAC Registration For Three More Years
December 2019 was the time for the National Accreditation Council of Guyana (NAC) to review the registration status of the University for further extension. Seeing the quality of education, our commitment to improvement, and present progress, NAC has extended Lincoln American University's registration status until December 2022.
We congratulate all the members and students for this milestone and commit to improve further and make medical education in Guyana better and accessible for every medical aspirant.
#8 Raising Leprosy Awareness on World Leprosy Day
Leprosy is an infectious skin disease and if not diagnosed and treated on a timely basis, can cause poor disabilities. Negatively affecting the lives of around 600 people on a daily basis, Leprosy has become a widely prevalent disease. About 4 million Leprosy cases were diagnosed until 2014.
To make people aware of Leprosy, every year, World Leprosy Day is observed worldwide on the last Sunday of January. On January 26, on the occasion of World Leprosy Day, we joined the good cause and made people aware of the serious disease so that they can beat Leprosy before Leprosy beat them. Here are 4 key points from our Leprosy 2020 campaign:
Leprosy is not an inherited disease
Leprosy is caused by bacteria
Leprosy can be prevented
Leprosy can be cured
To explore more about Leprosy, we encourage you to explore the Leprosy section on the official website of the World Health Organization.
#9 NEET 2020: Student Guidelines eBook
For medical aspirants in India preparing for NEET 2020, we have prepared the "NEET 2020 Student Guidelines eBook" to help students with all things NEET 2020. If you have not got your copy, download it today:
#10 『Medicine In Quotes』
"The art of medicine consists of amusing the patient while nature cures the disease."
- Voltaire
French Enlightenment Writer
#11 Guyana Byte: Know A Bit More About Guyana
Guyana is the only country in South America, which is a member of the Commonwealth of Nations, a political association of 54 countries, the majority of which are former British colonies.