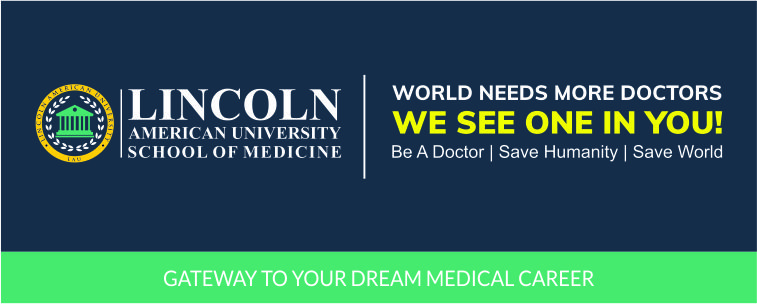 Hello Doctors, Doctors-To-Be!
Congrats on a successful breakthrough in 2020, and welcome to 2021! Without any ado, let's hit 2021 with new hope, aspirations, and zeal to make this new year the greatest ever:
#1 2021, A Year of Hope: Greetings From Vice-Chancellor.
Dear Parents, Students, Faculty Members, and all staff of Lincoln American University!
I take this opportunity to wish all of you a very happy, healthy, prosperous, and successful year 2021. The year just gone by, i.e., 2020, has been a year of great and grave challenges, not only for us but for the entire humankind. We have had financial challenges, we have had administrative challenges, we have had academic challenges, and we have had challenges to our basic survival.
With all your support, all your goodwill, all your cooperation, we have been able to survive these challenges and move forward. Year 2020 apart from being a challenging year, has also taught us certain lessons, the lessons of the spirit of humanity, the lessons of coming together as one community to fight that one particular episode which is threatening the very existence of mankind. And in a very short duration of time, rather in a record duration of time, all the scientific community has put in their knowledge, their skills, and their competencies together to invent a new vaccine and a whole lot of vaccines which are coming in the market now to help to cope-up with this challenge that has been posed by the Coronavirus.
At LAU, we have managed to cover your academics as per the schedule. We have had some issues, but they have been addressed because of the commitment of the faculty, because of the commitment of the people, of the parents, and the students who, notwithstanding the challenges that they're facing in their personal lives, continue to support their own growth and the growth of the Lincoln American University. Personally, I am very thankful to all of you for having cooperated with us, for having given us the support that we most needed to overcome these challenges.
Now, we are entering into a new year, a year of hope — a year of renewed aspirations and expectations. We hope and look forward to similar cooperation from all of you to take this university to its rightful place of being one of the topmost universities in the world for imparting medical education.
To my students, you have coped-up very well with the challenges that have been imposed both administratively and academically, as well as challenges of your personal safety. You have coped very well. It is very nice to see that very young in your career as a medical student, you have been exposed to the nuances of a pandemic. So, you have now learned how a pandemic is to be managed. And you will no longer be deterred or become apprehensive in future when you face similar situations.
I wish you all the best. I pray for the good health for everyone. I pray that all of you will go up in your lives, in your careers to become a doctor of not only one who looks after the health of others but a doctor who is a complete personality, who has faced the challenges that one is required to face in real-life situations and who walks with his head held up bright with a view to provide comprehensive healthcare to the clientele and to the community at large. I hope and pray that year 2021 will be a new beginning for all of you. It will be a beginning which will bring in lot of good luck, lot of good health, which will bring in happiness, success, and prosperity to all of you. God bless each one of you.
Best wishes,
Air Marshal (Dr) Pawan Kapoor
AVSM, VSM, and BAR (Retd),
Former Director-General of Medical Services (IAF),
Vice-Chancellor, Lincoln American University
#2 💐A Very Happy Birthday, VC Sir! 🍰
This is to our leader and mentor-in-chief, VC Sir:
Happy birthday to a leader who always motivates us to move forward, who always wishes for only the best for all of us, who drives us through the tough times, and who always keeps us inspired with his timeless wisdom, leading by example, and walking the talk — Many-many happy returns of your birthday, VC Sir!
May you stay healthy, happy, and keep inspiring and leading us forward in the years to come!
#3 Play USMLE Quiz January 2021🎓
USMLE Step 1 Quiz for January 2021 is out today. Play the quiz online. It will hardly take 5 minutes. Study questions carefully and play with peace of mind. We hope to see you score 5/5!
#4 Get Inspired: LAU Orientation 2020.
If you have not been able to make up your mind yet to become a doctor, wondering what it takes to pursue medicine, or struggling to stay focused and keep up with the demands of your medical career journey, LAU Orientation 2020 is for you:
You will learn in and enjoy the orientation, virtually meeting some best medicine personalities and drawing inspiration to keep moving forward in your medical career.
#5 Breakthrough 2020: 2021 Is Here!
2020 has been a breakthrough year in many ways. Besides traditional celebrations and enjoying some incredible moments, we learned most the importance of hygiene, the art of being together while staying apart, to adapt to unimaginable situations, and resilience to fight a once-in-a-lifetime pandemic.
To adapt to the new normal that 2020 has been, we moved your classes online, and you studied more than ever on the internet. We celebrated festivals on zoom calls and made social distancing the new way of expressing affection and care.
As we jump together into 2021, here is a glimpse of few new things we did + best moments from 2020:
#6 Cheers To The Winner For USMLE December 2020 Quiz!
Total 102 students played the USMLE December 2020 Quiz. We appreciate all students who participated and tested their knowledge.
Out of 102 participants, Sania Tahseen got the highest score this month, i.e., 5/5. We congratulate Sania with a huge round of 👏 👏 👏!
If you didn't score well this month, don't panic. Prepare even better. We will re-organize December 2020 quiz one more time in one of the upcoming newsletters. You can perform better next time. Best of luck!
#7 Get Ready To Hit Your 2021 Goals.
So, you're all set with your 2021 resolutions? That's great. But one bad news: About 80% of the New Year's resolutions fail. And one good news: About 20% of the New Year's resolutions succeed. To help you find your place in the success bracket, get yourself some time to grab these insights and hit your 2021 goals:
How to Use Immediate Gratification to Reach Long-Term Goals [From Greater Good Magazine]
For Success, Choose a Word of the Year Instead [From Inc. Magazine]
Long-term goals for medical students: Start working on them now [From Wolters Kluwer]
#8 🎅Ho-Ho-Ho! Merry Christmas! 🎄
We wish that your secret Santa gifts you with colors of joy and happiness every Christmas and make your wish-list come true. Merry Christmas!
We wish that your secret Santa gifts you with colors of joy and happiness every Christmas and make your wish-list come true. Merry Christmas!
#9 The Elephant Rope: A Short Tale of Inspiration 💡
A gentleman was walking through an elephant camp, and he spotted that the elephants weren't being kept in cages or held by the use of chains.
All that was holding them back from escaping the camp, was a small piece of rope tied to one of their legs.
As the man gazed upon the elephants, he was completely confused as to why the elephants didn't just use their strength to break the rope and escape the camp. They could easily have done so, but instead, they didn't try to at all.
Curious and wanting to know the answer, he asked a trainer nearby why the elephants were just standing there and never tried to escape.
The trainer replied: "When they are very young and much smaller we use the same size rope to tie them and, at that age, it's enough to hold them. As they grow up, they are conditioned to believe they cannot break away. They believe the rope can still hold them, so they never try to break free."
The only reason that the elephants weren't breaking free and escaping from the camp was that over time they adopted the belief that it just wasn't possible.
Moral of the story: No matter how much the world tries to hold you back, always continue with the belief that what you want to achieve is possible. Believing you can become successful is the most important step in actually achieving it. Remember there is nothing which is impossible because with your determination and perseverance impossible becomes I M POSSIBLE.
[Story excerpted from: The 10 Most Inspirational Short Stories I've Heard by Dan Western.]
#10 For Your Health: Get Enough Sleep. đŸ'€
"If you want to be the best version of yourself — at work, at school, and at home — it would be wise to take advantage of what a good night's rest can offer: sharper focus, higher alertness, better endurance, and a more positive mood and mindset."
—Tomas Chamorro-Premuzic
We all want to have more time but have only 24 hours a day. To study more and get pending work done, most students resort to cut sleep time. Well, that's not a healthy or even productive way to study and work. Healthy adults need between 7 and 9 hours of sleep per night.
To help you understand the vitality of good + enough sleep in your daily life, we will leave you with this — Why You Should Choose Sleep Over Work [From Harvard Business Review].
💼 We'll Miss You, Dr. Torrington!
With deep sorrow and heavy hearts, we have to inform you that Dr. Torrington is no more among us. Dr. Torrington passed away peacefully on November 20, at the age of 60, at his residence in Guyana.
Dr. Torrington was associated with LAU from the very beginning when we started the university with just five students. Leading LAU as Associate Dean, he took such good care of academic programs. Under his leadership, LAU grew to have 150+ students from across nations. It's been a long journey with Dr. Torrington but sadly, not long enough. We are grateful for all the energy, efforts, and happiness Dr. Torrington brought to the institution and the students. May his soul rest in peace in heaven.
We'll miss you, Dr. Torrington. And we'll always remember your courageous work ethic, your helpful nature, and all the joy that you brought to us. Rest in peace, Dr. Torrington.
Coronavirus Update.
There are a lot of SARS CoV 2 variants that are circulating globally. Predominantly noted and being currently investigated are the following two variants:
SARS CoV 2 variant strain known as 20B/501Y. V1, VOC 202012/01, or B.1.1.7 lineage has emerged with an unusually large number of mutations. It was first discovered and reported in United Kingdom and now seem to have been discovered in other countries as well.
SARS CoV 2 variant strain known as 20C/501Y. V2 or B.1.351 lineage emerged independently of the B.1.1.7 lineage. This variant shares some mutations with the B.1.1.7 lineage. And was first detected in South Africa.
These variants are being studied. So far there is no evidence that these variants cause more morbidity and mortality although it is being evidenced that the B.1.1.7 lineage strain is associated with increased transmissibility and is thus more infectious than virulent. There is also no evidence to indicate that the currently available vaccines will be ineffective against these emerging strains.
Currently there is no evidence to suggest that the variant has any impact on the severity of disease or vaccine efficacy.
The importance of Public Health surveillance of the mutant strains:
The new strains may result in faster and greater transmission thereby adding to the morbidity and increase the workload on strained health care delivery systems.
The new strains may cause milder or more severe disease in people. There is no evidence that existing SARS CoV 2 variants cause more severe disease than the original strains.
The new strains may evade detection by specific diagnostic tests. Most commercial Reverse Transcriptase Polymerase chain reaction (PCR) tests have multiple targets to detect the virus. Therefore, even if a mutation affects one of the targets, the other PCR targets will still work.
Decreased susceptibility to therapeutic agents such as monoclonal antibodies.
Ability to evade natural or vaccine-induced immunity. Both vaccination against and natural infection with SARS-CoV-2 produce a "polyclonal" response that targets several parts of the spike protein. The virus would likely need to accumulate multiple mutations in the spike protein to evade immunity induced by vaccines or by natural infection.
[Source: CDC Atlanta Website.]
đŸ§©Quiz [The Answer Is Hidden In Text of This Newsletter.]
How much sleep is recommended for healthy adults?
A. Between 6 and 8 hours
B. Between 6 and 9 hours
C. Between 7 and 8 hours
D. Between 6 and 9 hours
😂For A Good Laugh: