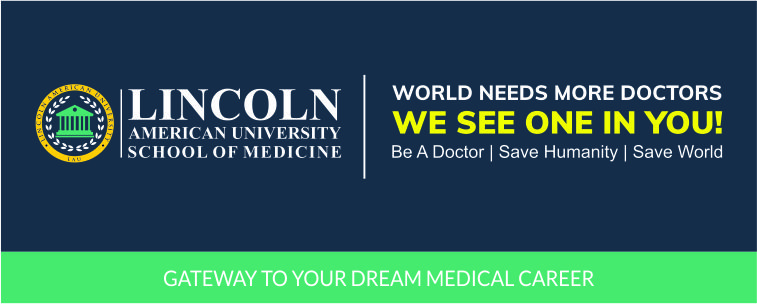 Hello Doctors, Doctors-To-Be!
We hope that you all are doing your bit to fight the ongoing Coronavirus pandemic and staying safe.
This time is unparalleled; the one world has never seen before. To help you all navigate this tough phase, we are glad to bring you some good news on the progress against COVID-19, a miracle story of hope and optimism, and updates from the campus and community to let you feel well and stay progressive.
Without further ado, let's dive in!
#1 Winning Tough Times: Message from Vice-Chancellor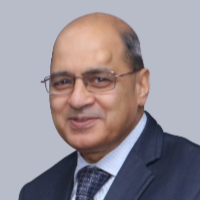 Dear Students,
As you all know, at Lincoln American University, your safety, well-being, and quality medical education have been our top priority since day one and under all circumstances.
Presently, we, as a community, are facing an unprecedented pandemic situation. I understand that to keep going during these tough times is a challenge for us all. Our routine lives have come to a grinding halt and the future looks more uncertain than ever.
However, I would like to tell you that tough times are reflective of who we are as a person and how much we are committed to our responsibilities.
Today, we need to stay faithful to our duties and keep moving forward in whatever ways possible. Accordingly, fulfilling our commitment to your health and education, we have made all the arrangements on the campus for your care and regular teaching even during the Coronavirus situation.
Your classes will continue as hithertofore but the mode of instruction will change from classrooms to online. All you have to do is keep calm, stay focused on your studies, and help each other in whatever ways you can. This is the time for bonding with each other, understanding each other, and using each other's strengths to overcome and minimize your own weaknesses.
One more important thing, please stay cooperative with the community and adhere to all the COVID-19 guidelines and safety measures issued by the Guyana health ministry and the government. That's the best way to express our gratitude for all that frontline workers are doing to keep us safe. Do remember you are also soon going to be a frontline health care worker yourself. You, therefore, have greater responsibilities.
Besides, as they say, bad times are a measure of our real strength. So, let's keep going through this Corona-time with all our strength. While the situation might not be in our favor now, our best and brightest days are ahead of us because we know that CORONA CANNOT STOP US.
Best wishes,
AVSM, VSM, and BAR (Retd),
Former Director-General of Medical Services (IAF),
Vice-Chancellor, Lincoln American University
#2 Doing Our Bit To Help People
To encourage people to follow Coronavirus safety measures, our students spread awareness on precautionary methods to slow down the spread of COVID-19 and staying safe.
In the campaign supported by hand-signboards, our students urged people to stay home, sanitize hands at regular intervals, maintain social distancing, wear masks, seek medical consultation in case of symptoms, and help people in need.
#3 A Miracle: Winning Corona At The Age of 102
Italica Grondona, a 102-year old woman, who won the battle against COVID-19. [Photo from New York Post]
Some people believe in miracles, while others don't. Well, the story of Ms. Italica Grondona, a 102-year old woman, is not less than a miracle and inspiring indeed.
Ms. Italica Grondona tested positive for Corona but didn't give up on life. After 20-days of hospital care, she stepped out recovered and well on her way to celebrate her 103rd birthday! Recovery from Coronavirus at the age of 102— If that's not a miracle, what is?
#4 Coronavirus Vaccine: A New Ray of Hope
Medical scientists worldwide are running faster and faster in the life-saving race to discover a vaccine for Coronavirus. Good news: A vaccine developed by Oxford University scientists has tested effective for monkeys. Now, its clinical trial on 6000+ people is underway. If results come out positive, we will have vaccine available in September 2020.
You can find out more about Oxford vaccine progress in The New York Times story—In Race for a Coronavirus Vaccine, an Oxford Group Leaps Ahead.
#5 Keep Corona Away with Preventive Measures
#6 COVID-19 Quiz: Results & Reopening
Last month, we organized a COVID-19 quiz to help students test their awareness levels regarding Coronavirus. Out of the total of 58 students who participated in the quiz, 19 students scored 5/5, 11 students scored 4/5, and others scored in the range of 0-4!
Well, these results are not what we expected and present a considerable awareness gap! For all students, we are re-opening the COVID-19 quiz for a retake. So, if you missed the LAU April 2020 newsletter, which was a special COVID-19 edition for Corona awareness, you can go through it now and attend the quiz.
#7 USMLE Education Corner
Our Quiz VI for USMLE Step 1 is out today. Play the quiz online. It will hardly take 5 minutes. Winners shall be featured on the University's website and media profiles. Study questions carefully and play with peace of mind. We hope to see you on the winners' list next month.
#8 COVID-19: Guyana Update
As of April 29, Guyana has 78 confirmed COVID-19 cases. Thanks to the efforts of the Guyana health ministry and all the frontliners fighting against Coronavirus, the situation is under control, and people are recovering. Until now, 18 people have recovered.
For more information on Coronavirus in Guyana and ways to stay safe and relaxed, watch the COVID-19 update video from Guyana health ministry:
Besides, stay well-informed by frequently visiting the health ministry website and participate in the COVID-19 social campaigns organized by the ministry. After all, every participation does matter.
#9 Know the Structure of Coronavirus
Coronaviruses are unsegmented single-stranded positive-strand RNA viruses.
Phylum:-Pisuviricota
Class:-Pisoviricota
Order:-Nidovirales
Family:-Coronaviridae
Subfamily:-Orthocoronavirinae, which is divided into α, β, γ, and δ genera according to their serotypic and genomic characteristics.
Genus:-Beta coronavirus.
Subgenus:-Sarbecovirus.
Species:-Severe Acute Respiratory Syndrome related Coronavirus.
Strain:-SARS Coronavirus 2.
Reason for the name:-It is named after the wreath-shaped protrusions on the envelope of the virus.
Structure of the Virus:
They have an envelope encasing the RNA genome, and the whole virus is round or oval, often polymorphic, with a diameter of 50 to 200 nm.
The novel Coronavirus or now named as SARS Coronavirus 2 is 60 to 140 nm in diameter. The spike protein is located on the surface of the virus and forms a rod-like structure. As one of the main antigenic proteins of the virus, the spike protein is the main structure used for typing. The nucleocapsid protein encapsulates the viral genome and can be used as a diagnostic antigen.
Schematic diagram of the SARS Coronavirus structure:
The viral surface proteins (spike, envelope and membrane) are embedded in a lipid bilayer envelope derived from the host cell. Unlike group 2 Coronaviruses, SARS-CoV does not possess a hemagglutinin esterase glycoprotein. The single-stranded positive-sense viral RNA is associated with the nucleocapsid protein.
#10 『Medicine In Quotes』
"Medicine is not only a science; it is also an art. It does not consist of compounding pills and plasters; it deals with the very processes of life, which must be understood before they may be guided."
— Paracelsus, Swiss Physician
#11 Happy World Health Day 2020
On April 7, we celebrated World Health Day. It's a day not just to observe the importance of health in our life but also to say thanks to those who work tirelessly to keep us healthy—all doctors, nurses, midwives, and every person involved in healthcare— and to re-affirm our commitment to the healthcare as medical aspirants and professionals.
Throughout the healthcare crisis, our healthcare workers have given their best. During COVID-19 as well, healthcare workers worldwide have been working restlessly, and the least we can do is being grateful to them and say thanks.