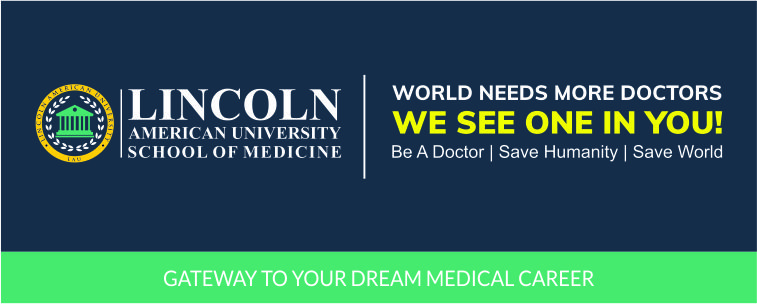 Hello Doctors, Doctors-To-Be!
May 2020 has been a great month. We celebrated seven special event days while maintaining social distancing, launched two new initiatives to level-up your career growth, and yes, earned some praise from the community.
With excitement, let's dive in!
#1 Distance Learning & New Career Opportunities: Message from Vice-Chancellor.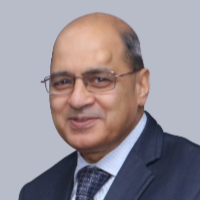 Dear Students,
I trust your classes online are going great, and you are keeping good health.
I am sure that you are looking after your health and taking preventive measures to stay safe.
Staying together with your colleagues and friends in the lockdown can be an unnerving experience and can make some of you intolerant of the weaknesses of others. Remember, God never made anyone perfect. You must learn to coexist with your colleagues as in the future you want to remember each other with a fondness for having spent tough times together. Therefore, maintain discipline, make space for each other, accept each other as you are, and learn to be tolerant of each other. Such opportunities to strengthen interpersonal bonds will never arise again.
As you know, throughout May, we have been arranging your MD classes online to make sure that your academics stay on course. I hope that you are making full use of the new initiatives and utilizing these opportunities to widen your horizons and broaden your perspectives. To further your knowledge and career opportunities, we have made two crucial developments in May.
The first development is implementing the collaboration between Lincoln American University and the Orenburg State Medical University of Russia that was made last year. Under the new partnership, we are exchanging knowledge and online lectures that will benefit you and students in both the universities.
The second development is the announcement of the Patient Safety Management Certification Program in collaboration with the Public Health Foundation of India. Patient Safety is the primary concern of all whether they are physicians or the patients or else the public in general. The first role of every Physician is "Not to do any harm." You will have a few questions on this subject in your USMLE Exams. Under the new program, you have the opportunity to learn the basics of patient safety in 5-day online classes and webinars and earn Patient Safety Management Certification alongside your MD Program. It's another step in the direction of giving a boost to your medical career ahead. This will also be of great utility to you when you apply for residency in the USA.
As we fight the Coronavirus pandemic, we all need to deliver our respective duties diligently and with 100% commitment. At Lincoln American University, it is our duty and responsibility for providing you with every facility and opportunity that is instrumental in making you competent and caring healthcare professionals. Our recent efforts to keep your classes and studies going during this tough time are a testimony to our commitment. In return, I trust that you will put all efforts to make the best use of the facilities provided by LAU and bring pride to yourself, me, your faculty, LAU, and your family. And of course, bring care to those who need it the most.
Keep going, doctors-to-be! Your brightest days are waiting ahead of you.
Best wishes,
AVSM, VSM, and BAR (Retd),
Former Director-General of Medical Services (IAF),
Vice-Chancellor, Lincoln American University
#2 Online Classes: Because Education Must Go On.
To make sure that neither medical education of you nor your health gets hampered, we are arranging all medical classes online for distance learning. With online classes and graphic-rich presentations, you will be getting regular lectures as per your schedule while keeping the threat of Coronavirus away. In the live classes, you can also ask questions right from the faculty members and get real-time responses.
In Photos: Dr. Tamkeen A. Kinah, Adjunct Professor of Cardiology at Lincoln American University and Air Marshal (Dr) Pawan Kapoor interacting with the students during an online lecture.
#3 LAU + OrSMU = Distance Learning + Better Career Opportunities.
The pandemic has changed the way we work, not our mission. Corona has not stopped us from doing every bit we can to make your future bright. As one more step in this direction, we have implemented the signed agreement of co-operation with Orenburg State Medical University, Russia.
This collaboration will increase the career opportunities and knowledge sharing options for you and all LAU and OrSMU students. On that note, we also pay our gratitude to Dr. Anton Mironchev, Dean of OrSMU, for providing online lectures as part of the knowledge exchange program. He is a Physician and Teacher par excellence.
In Photos: Dr. Anton Mironchev, Dean of OrSMU, and Air Marshal (Dr) Pawan Kapoor interacting with the students during an online lecture.
#4 In Photos: Learning with New Ways.
Where there is a will, there is a way! We have found new ways to let you learn and continue on your path to becoming a doctor while adapting the new normal: Social distancing and online learning.
In Photos: Students getting online lectures on their smartphones, tablets, and computers.
#5 Corona Update: When Will We Have A Cure?
Thousands of research centers around the world are making tireless attempts to invent a drug that can cure the humankind from COVID-19. To gear-up the initiatives for developing a Coronavirus cure, the World Health Organization and partners have launched "Solidarity" Clinical Trial for COVID-19 treatments. However, concrete results are yet to be seen.
You can explore more on WHO website about how Solidarity Trial works and what progress it has made so far:
#6 Cheers To Guyana Independence Day!
Happy Independence Day, Guyana.
On May 26, 2020, we celebrated the 54th Anniversary of Independence Day of Guyana by appreciating Guyana's achievements in its more than 5-decade long journey and expressing our gratitude to Guyana and our friendly Guyanese for allowing us to be a small part of this journey. If you missed the special thank you note from the Vice-Chancellor, get your copy here:
#7 Hand Sanitizer: You Can Make It Too!
How to make hand sanitizer – Tutorial by Lincoln American University.
No thanks to Coronavirus, hand sanitizers are in shortage. Well, why bother to buy it when you can make it at home? Wondering how? Follow our 2-minute guide to making hand sanitizer at home:
#8 Patient Safety Management Certification Program Is Here.
In collaboration with the Public Health Foundation of India, we have designed a Patient Safety Management Certification Program. The program is a 5-day virtual course comprising of virtual training, case-based learning, and webinar sessions. It is designed to enhance your knowledge, skills, and competencies regarding basic patient safety concepts and practices.
To enroll in the program, talk to your faculty, or apply online. The last date of enrollment is July 7, 2020.
To know more about the program, watch this video:
#9 Eid Mubarak: Celebrating The Holy Month Of Ramadan
In Photos: Students enjoying a great feast on the day of Eid.
At LAU, we concluded the holy month of Ramadan with a great feast on the day of Eid while also taking duly care of health safety for everyone. It was a blessed day for everyone at the university and filled with lots of new hope, love, and happiness. We wish that this holy month must have nourished the seeds of good deeds and contentment in your heart.
#10 Cheers to Winners for USMLE May 2020 Quiz!
A total of 25 students played the USMLE May 2020 Quiz. Out of 25 students, we have got three wonderful winners who scored 5/5! Let's clap for:
Abinash Panda
Hari Priya
Tanishq Khatavkar
If you played the quiz and could not get through, don't worry. We appreciate your participation and know that you can do better. Study well and play June 2020 USMLE Quiz. USMLE preparation takes time, and quiz will help you find your weak areas and prepare better.
USMLE Step 1 Quiz for June 2020 is out today. Play the quiz online. It will hardly take 5 minutes. Study questions carefully and play with peace of mind. We hope to see you score 5/5!
What Community Is Saying About Your University?
"Very good measures are taken by university to make sure no studies are hampered in this pandemic time." — Ruchi Sharma on online classes initiative by LAU.
May 2020: Observations, Celebrations, and Notes
World Asthma Day: "What people need to know is that asthma isn't a minor wheeze-disease." — Jackie Joyner-Kersee, Athlete
Mother's Day: "The influence of a mother in the lives of her children is beyond calculation." James E. Faust, Lawyer
International Nurses Day: "Constant attention by a good nurse may be just as important as a major operation by a surgeon." — Dag Hammarskjöld, Swedish Economist
International Women's Health Day: "A woman's health is her capital." — Harriet Beecher Stowe, American Author
World No Tobacco Day: "The true face of smoking is disease, death, and horror – not the glamour and sophistication the pushers in the tobacco industry try to portray." — David Byrne, Singer