For all the medical aspirants who have completed Higher Secondary Examination with science stream but yet to qualify NEET (National Eligibility cum Entrance Test-Undergraduate), Lincoln American University ("LAU" or "University") is organizing Pre-Medical Program in India, a 90 credit hours program.
The Pre-Medical Program is prelude to the undergraduate MD Physician Program of the University which is equivalent to MBBS, approved by Medical Council of India, and complies with the requirements of United States Medical Licensing Examination (USMLE), a three step examination to get a licence for medical practice in the United States, India, and other countries.
The Pre-Medical Program is organized at Sharda University, one of the leading universities in India. Along with the program, free NEET Coaching is also provided. Endeavor is made to make sure that all students qualify NEET as well as complete Pre-Medical Program. In case any student does not qualify NEET 2020, 50% of the tuition fees shall be refunded.
Upon successful completion of the Program, students are directly admitted to the 4-Year MD Program of the University. It's a unique opportunity for NEET Unqualified students to start their MD Program without waiting for another year to qualify NEET and become a doctor.
The program will help students qualify NEET 2020 along with the completion of the one-year Pre-Medical Program.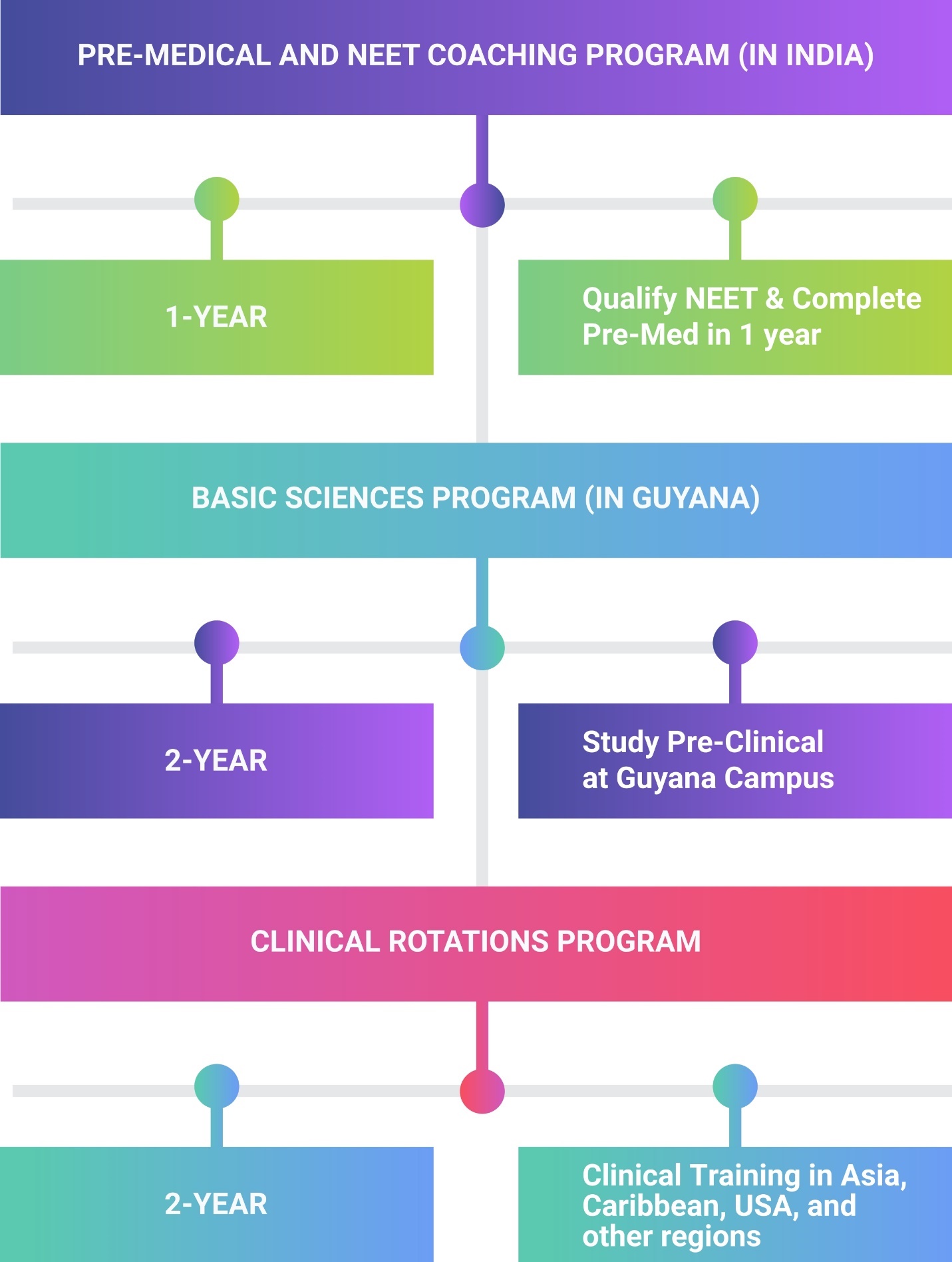 5-Year Pathway To Become A Doctor For NEET Unqualified Students.
Quality Assurance
The Program is organized in Collaboration with Sharda University's School of Medical Sciences & Research, one of the leading medical institutions in India.
Pre-Medical & NEET Coaching program provides the students with access to India's finest faculty with years of experience and specialization in their respective domains. For Pre-Medical, teaching faculty come from the Sharda University while NEET Coaching is provided by Harvin Academy professors who have provided NEET classes in institutes like Aakash and have a proven record of generating ranks in NEET results.
For time management and easy understanding, the University has designed a system-based curriculum and organize classes for Pre-Medical during weekdays while classes for NEET are organized during weekends.
With the teaching methodology that is developed on the foundation of years of experience and results, Pre-Medical & NEET Coaching Program equips the students with all the resources they need to successfully qualify NEET as well as Pre-Medical Program.
Committed to quality in medical education and being a partner with our students, we not only celebrate the success of our students but also take responsibility for their results. For students who miss the NEET qualification mark, we commit a 50% refund of tuition fees.
Success Stories
Many students, who could not qualify NEET in their first attempt, have reaped the benefits of the Pre-Medical & NEET Coaching Program. Here are few of the students from our previous batch who could not qualify NEET in 2018 attempt but in 2019, they qualified not only NEET but also the Pre-Medical Program:
– Atul, Student

Qualified NEET, 2019

I wanted to go to one of the finest medical universities. So, I chose Pre-Medical from Lincoln American University as it provides NEET coaching side-by-side, along with the Pre-Med Program. And students who don't qualify NEET, they don't need to worry here because the University provides side-by-side coaching. So, we can study both the Pre-Med Program as well as the NEET coaching, and we can qualify our NEET exam very easily.

– Swapnil, Student

Qualified NEET, 2019

If you have not qualified NEET, don't feel depressed. Don't think too much over it. Instead of waiting one year for NEET preparation, take admission in LAU, and it's the best University.

– Nivesh, Student

Qualified NEET, 2019

My experience with the University has been great. Along with education, we have been involved in extracurricular activities as well. Anatomy, Physiology, Biochemistry; all our classes and faculty has been the best.

Eligibility
For admission to the Pre-Medical & NEET Coaching Program, the University follows the eligibility criteria as provided by the National Testing Agency for NEET. Eligibility criteria as applicable for NEET 2020 shall be applicable for Pre-Medical & NEET Coaching Program Intake.
Accordingly, to get admission, a candidate must have passed in the subjects of Physics, Chemistry, Biology/ Biotechnology, and English individually and secure at least 50% aggregate marks in Physics, Chemistry and Biology subjects of 12th standard. Students belonging to the reserved category (OBC/SC/ST) get a relaxation of 10%. Further, physically challenged students in the general/ unreserved category get relaxation of 5%. Minimum aggregate marks required for different category of students are tabulated as under:
| | |
| --- | --- |
| Student Category | Required Minimum Aggregate Marks in Physics, Chemistry, and Biology Subjects of 12th Standard |
| Unreserved/ General | 50% |
| Unreserved with benchmark disability | 45% |
| Scheduled Castes, Scheduled Tribes, Other Backward Classes (with or without benchmark disability) | 40% |
Application Procedure
To get admission, students can apply online. Once the application is received, our Admission Advisors get back to the students and guide them through the entire admission process.
Kindly note that the University accepts admissions on the first-come-first-serve basis, and the admission is subject to availability of seats. Despite meeting all the eligibility criteria, student(s) may be denied admission due to the non-availability of seats. The last date to apply for 2019-20 Batch is October 31, 2019.
For admission inquiries or program information, we invite all students/ parents/ guardians to contact the University Admission Department.
Program Benefits:
Save One Year of Academic Career
With the Pre-Medical & NEET Coaching Program, students can save one year of their academic career by completing the NEET and Pre-Medical Program together in one academic year.
Well-Recognized Qualification with Global Career Prospect
MD Program of Lincoln American University is approved by the Medical Council of India. Further, among other recognitions, the University is listed in the World Directory of Medical Schools (WDOMS), certified by the Educational Commission for Foreign Medical Graduates (ECFMG), and recognized by the Medical Council of Canada (MCC). Medical degree from Lincoln American University is recognized in India, United States, Canada, and other countries worldwide opening doors for global career opportunities, after the student appear and passes the required council's qualifying examination.
Helping Students Pursue Their American Dreams
The curriculum of LAU's medical program complies with the United States Medical Licensing Examination (USMLE) requirements. The University also provides USMLE Coaching in collaboration with Kaplan Medical, the world's leading provider of USMLE preparation facilities. USMLE is a 3-step examination to get a license to practice medicine in the United States.
LAU Students can complete Step 1 and Step 2 of USMLE during MD Program. After completion of the MD Program, students can go for medical residency in the United States and complete USMLE Step 3 during residency. After completion of residency and USMLE, students can get a license to practice medicine in the United States, India, and other countries.
Clinical Training in India/ Abroad
For clinical training, LAU has collaborated with Max Healthcare Institute in India. Further, LAU students get opportunities to get clinical training in Nepal, Guyana, and the United States. International clinical exposure provides our students with a global medical perspective.
The LAU Advantage
Not to mention, Lincoln American University was initiated to bridge the gap between means and the ability to pursue medical education by making it affordable for masses. All LAU students benefit from affordable fees structure, one-window admission process, University-managed hostel and mess facility, and our holistic development approach with a delicate balance of quality education and quality life.
With The LAU Advantage, 250+ students from different corners of the world are pursuing medical education at Lincoln American University, and we extend especial invitation to those students who have not yet qualified NEET to join Pre-Medical & NEET Coaching Program and start their journey to become a doctor.