Special Kaplan USMLE Preparation Program For Lincoln American University Students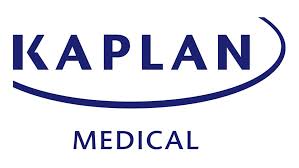 Lincoln American University, School of Medicine (LAU) and Kaplan Medical (Kaplan), world's leading provider of USMLE preparation facilities, have joined forces to introduce Kaplan's Special USMLE Preparation Program exclusively for LAU Students (USMLE Preparation Program)!
Under the USMLE Preparation Program, our students will get extended access to Kaplan's On Demand Course for preparation of USMLE Step 1.
The program provides comprehensive Basic Science curriculum support and practice facilities to help supplement our students' medical education and ensure that they are prepared to score high in USMLE Step 1!
USMLE Preparation Program will also help the students to strengthen their basic science studies and prepare for USMLE in the best possible manner with the following facilities included in the program:
Over 220 hours of concise and engaging video lectures
2,600 warm-up and post video test questions
Question bank with over 2,100 USMLE-style questions
Structured Content and Guided Study Plan
1 Diagnostic Exam
9 Subject-Based Assessment Exams
2 full-length simulated Step 1 exams
2019 Step 1 lecture notes
The program covers USMLE preparation very comprehensively and will help the students practice USMLE-style questions and build foundational knowledge and pace necessary for success in the Licensure Examination.
Thousands of exam-like questions are included in the question bank of the USMLE Preparation Curriculum which help the students access their strengths and weaknesses and focus on their weak areas.
As part of the curriculum, print volumes, as well as eBooks, are provided to students to help them study at their convenience.
Separate lecture notes for all the subjects of USMLE Step 1 including Anatomy, Behavioral Science and Social Sciences, Biochemistry and Medical Genetics, Immunology and Microbiology, Pharmacology, Pathology, Physiology are included in the On-Demand library. Further, notes are divided into small sub-sections to let the students prepare smoothly for the examination.
The question bank is designed in a way that students can quickly revise questions for which they provided Incorrect answers. It helps in strong preparation for USMLE.
Students can avail the online test facility and give mock-test in an artificial but exam-like environment and review and analyze their progress and mistakes.
USMLE Preparation Program provides the complete package for the preparation of USMLE based upon 4 pillars:
1. Learning: With engaging videos, books, and notes with color infographics, charts, and tables.
2. Testing: With question bank with topical questions and assessment exams.
3. Review: Review wrong answers with complete explanations and focus on weak areas.
4. Repeat and Practice: Repeat learning, testing and review to practice for USMLE exam day.
While the cost of the program for other students is US$ 4,449, the program will be offered to LAU students at US$ 1,499 only along with extended access to online preparation facilities!
We believe that students of Lincoln American University will benefit from this special arrangement made to advance their career and help them get ready for medical practice in the United States and other countries all around the world as they pursue their medical education in Guyana.
USMLE is a three-step examination gateway for medical licensure in the US conducted by the Federation of State Medical Boards of the United States (FSMB) and the National Board of Medical Examiners (NBME) to assess students' ability to apply knowledge, concepts, and principles and to demonstrate patient-centered skills.
MD Program of LAU strictly adheres to USMLE requirements and provides guidance from USMLE qualified professionals to facilitate USMLE preparation. Our collaboration with Kaplan has promoted our USMLE support to the next level which will help the students to appear for the exam more confidently and crack USMLE.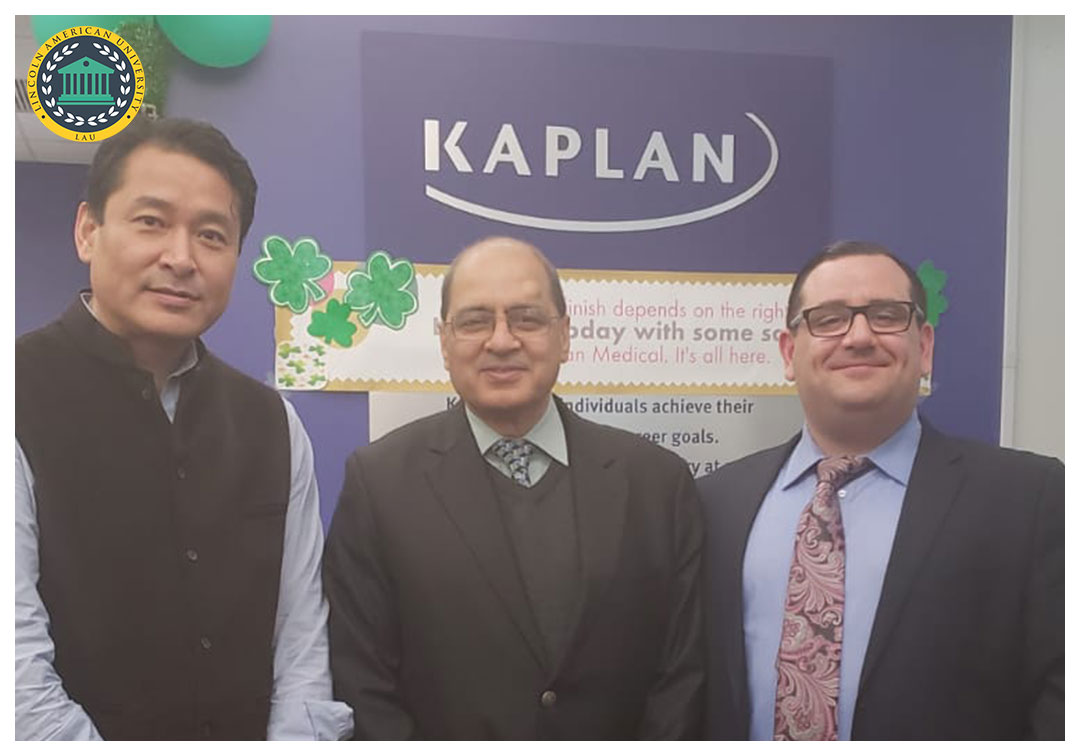 Dr. Tenzin Jamyang, Faculty & International Recruitment Manager, Kaplan Medical (Left), Air Marshal (Dr) Pawan Kapoor, Vice Chancellor, Lincoln American University (center), Nicholas Valentino, Senior Director, International Sales, Kaplan Medical (Right).