Students from English-Speaking West African Countries like Nigeria, Ghana, The Gambia, who are looking for admission to Lincoln American University's 5-Year MD (Equivalent To MBBS) Program, are required to qualify West African Senior School Certificate Examination (WASSCE).
As you might know, WASSCE is conducted by the West African Examinations Council (WAEC), the examination board of West African countries.
For the students in English-Speaking West African Countries, WASSCE is the gateway to getting enrolled in various bachelor's degree programs offered by Universities in West Africa or other regions of the world.
Lately, WASSCE was held in April-June 2019. Usually, results for the exam are announced within 45 days of the conclusion of the exam. On June 07, 2019, WASSCE aspirants wrote their last exam and 45 days window reached its maturity on July 22, 2019. Now, the results will be announced anytime soon, positively by the end of July 2019.
Well, before the results are announced, we decided to write a step-by-step guide to help you check your WASSCE results carefully, with best practices. Here it is:
How To Check WASSCE Results?
Once the results are out, you can follow these steps, as collated from the official website of WAEC, to check your WASSCE May/June 2019 results: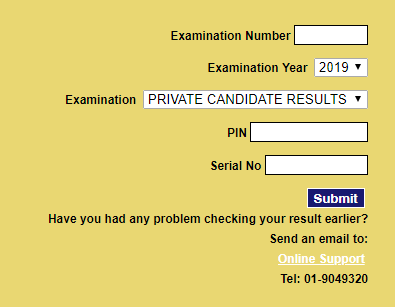 West African Senior School Certificate Examination (WASSCE) Results Form on the official website of West African Examinations Council (WAEC).
Step-By-Step Guide To Check WASSCE Results

Step 1

Go to WAEC official website for WASSCE Results, www.WAECdirect.org and visit results page.

Step 2

In Examination Number field, enter your 10-digit WAEC Examination Number. Examination Number consists of 7-Digit Center Number followed by your 3-Digit Candidate Number.

Step 3

From Examination Year dropdown, choose your Examination Year. For example, 2019.

Step 4

From Examination dropdown, select the type of examination (Private Candidate Results / School Candidate results).

Step 5

In the Personal Identification Number (PIN) field, enter the e-PIN available in your WAEC Voucher.

To view the results, you need to buy an e-PIN Voucher. Currently, you can buy one e-PIN for NGN 700 from WAEC national or branch offices.

Using one e-PIN, you can check your results for a maximum of five times. Once you exhaust the limit of five views, another e-PIN is required. We recommend you save a copy of your results for record and avoid using additional e-PIN.

Further, one e-PIN can be used to view the result of only one candidate. That means you can't check the results of different candidates with a single e-PIN.

Step 6

Click the submit button and wait for the results window. That's it!
Points to remember while checking WASSCE Results:
✔

Keep ready the information and documents you need to check the results like your examination number and e-PIN.

✔

Use one e-PIN for the result of only one candidate. If you want to view the result of your friends and classmates, you need to have separate e-PIN for each candidate.

✔

In case you get an error while checking WASSCE result, drop support request to call 01-9049320 or

customersupport@vatebra.com

. That's the official support ID of WAEC since its website is maintained by Vatebra Limited, an ICT company in Africa.
5-Year MD (Equivalent To MBBS) Program For WASSCE Qualified Students
WASSCE Qualified students are eligible for admission to our 5-Year MD (Equivalent To MBBS) Program, a US-Based, English Medium, International-Standard Medical Program. If you dream of becoming a doctor, we invite you to apply online to our MD Program and come to get Medical Education in Guyana. Currently, 150+ students from different countries worldwide are studying on our Guyana Campus, and we want to extend the opportunity to you too! To check Program Details, visit our MD Program page or contact our team of counselors to get guidance on medical education abroad.
On that note, we, on behalf of the entire team of Lincoln American University, wish you All The Best for your WASSCE results!