Lincoln American University With Orenburg State Medical University, Russia
Lincoln American University and Orenburg State Medical University, Russia (OSMU) have joined forces and share an agreement for mutual co-operation to broaden the horizon of medical and career opportunities for their students.
The arrangements and co-operation between two leading universities provide the following facilities for the entire University stakeholders:
Smooth transfer of medical students (Student Exchange Program)
Transfer of semester credit hours
Exchange of knowledge and research
Mutual co-operation and progress
Research in relevant field
Exchange of faculty
Above facilities make it possible for the medical students in both the universities to explore the opportunities in Guyana & Russia, collaborate with a diverse set of people, explore a different culture and get medical education in a more sophisticated manner.
The holistic and diverse set of opportunities emerging out of collaboration let the students tap the untapped set of international opportunities and gain the global exposure required for the international practice of medicine. Further, due to shared problems and solutions, students also get to know the medical challenges and needs of a different country while developing solutions together which provide better and innovative resolutions for existing health issues and ultimately benefit the healthcare sector worldwide.
The collaboration between LAU and OSMU is a testimony to cordial relations maintained between two leading universities and ensures mutual co-operation and progress. Further, as two universities of international stature work together, it results in synergy efforts which facilitate better research, optimum usage of University resources, diverse set of opportunities, flexibility, and a culmination of the culture of two great countries.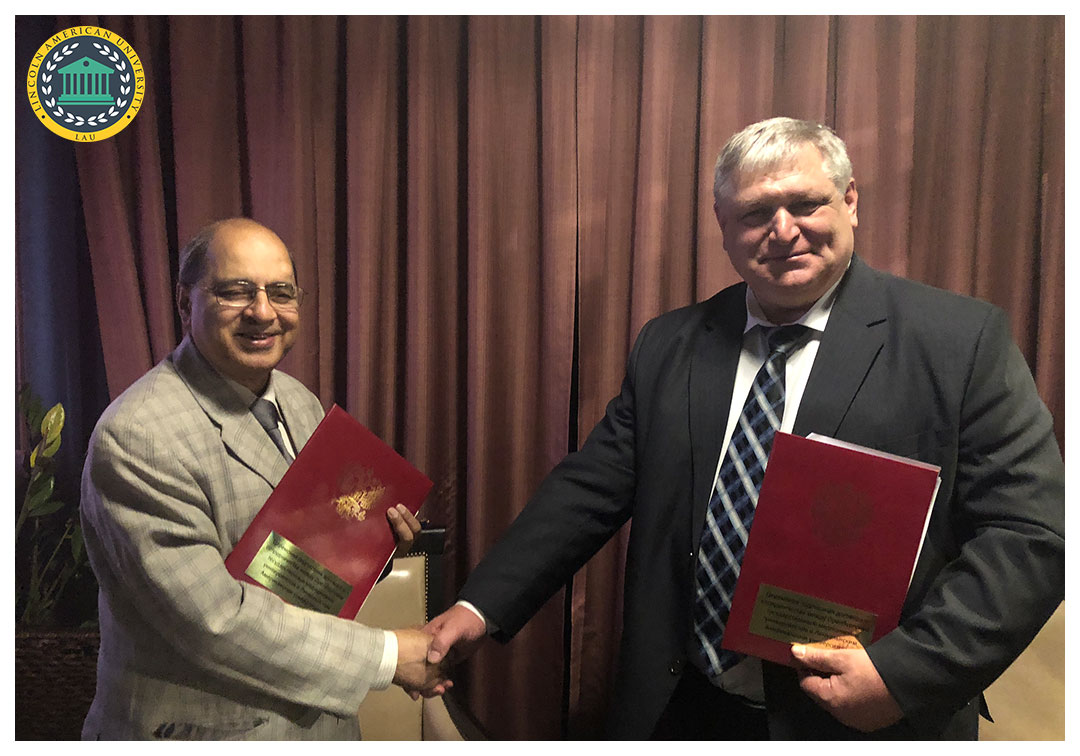 Air Marshal (Dr) Pawan Kapoor, Vice Chancellor, Lincoln American University (left) and Igor Miroschnichenko, Rector of the Orenburg State Medical University (right) shake hands during Signing Ceremony held on April 30, 2019, at OSMU Campus in Russia.
When two institutions of such excellent reputation as Lincoln American University and Orenburg State Medical University come together, it creates a win-win situation for the stakeholders of both the organizations. The collaboration between LAU and OSMU is a win-win for all the medical aspirants and other stakeholders ensuring a glorious future for the medical aspirants.
About Orenburg State Medical University
Founded in 1944 and located in Orenburg City of Russia, Orenburg State Medical University (OSMU) is one of the leading medical universities in Russia and one of the most sought-after destinations for international students looking for medical education abroad. OSMU is constantly ranked in the list of top medical universities in Russia.
As a medical university OSMU is listed in World Directory if Medical Schools (WDOMS), certified by Education Commission for Foreign Medical Graduates (ECFMG) and Foundation for Advancement of International Medical Education and Research (FAIMER) and recognized by the erstwhile Medical Council of India (MCI),.
Divided into about 47 departments, a team of about 300 medical professionals and professors work together at OSMU to provide quality medical education to students from all around the world.
About Lincoln American University
Lincoln American University, School of Medicine (LAU) is a private medical university offering quality medical education in Guyana, the only English-speaking country in South America.
LAU was established in 2016 to bridge the gap between means and ability to become a doctor and provide affordable and quality medical education in South America to students from all around the world.
LAU is well-recognized University which is listed in the WDOMS, registered with National Accreditation Council of Guyana (NAC, Guyana) and FAIMER, certified by ECFMG and recognized by MCI.
To get admission at LAU, no entrance examination is held. Instead, students are admitted based on their performance in School Examinations. The medium of instruction at the LAU is English.
Since its inception, the University has made impressive progressive. Currently, 150+ students from Africa, the Caribbean, and countries across Asia and other regions worldwide are enrolled in LAU's 5-Year MD Program and pursuing their dream medical career.