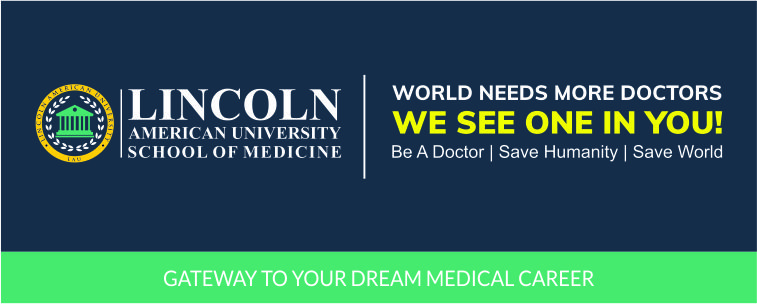 Hello Doctors, Doctors-To-Be!
May has been a month full of celebrations and observations. We celebrated Eid, we celebrated 55 years of Guyana's Independence, we observed 6 healthcare days, and we expressed our "For-Moms-Gratitude" on Mother's Day! Let's take a glimpse of all of that and more here:
#1 Safety Is In The Mask: A Message From Vice-Chancellor.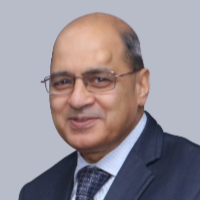 Dear Students,
With the COVID-19 vaccine drive in India as well as worldwide, you and people in all age groups are getting vaccinated against COVID.
Most of the vaccination drive is being done in a 2-dose series. While the duration between the two doses varies from vaccine to vaccine , but in each case you are considered to be fully vaccinated only two weeks after receiving the second dose.
CDC has issued guidelines that "fully vaccinated people can resume activities without wearing a mask or physically distancing." However, this guideline has been a matter of debate. Despite vaccination, the number of cases is rising in countries like the UK primarily due to COVID variants.
Therefore, even after vaccination, going out without a mask is not safe. In my considered opinion, CDC has made a commitment without providing substantial evidence. To keep yourself safe, I'd urge you to please wear a mask even after you get fully vaccinated. Anyway, wearing a mask doesn't do any harm. So, why take the risk? It's always better to be safe than sorry.
And if you have not registered for vaccination yet, please register and get vaccinated. And once again, wear a mask even after full vaccination. Because due to COVID variants, there is a possibility of another wave and the current vaccine might not provide 100% safety against that. For now, safety is in the mask.
So, get vaccinated. Wear mask. Stay safe. COVID appropriate behavior is the way forward. Remember the word SMS where S stands for Safe distance avoiding overcrowding, M stands for Masking yourself correctly and the second S stands for Sanitization.
Best wishes,
Air Marshal (Dr) Pawan Kapoor
AVSM, VSM, and BAR (Retd),
Former Director-General of Medical Services (IAF),
Vice-Chancellor, Lincoln American University
#2 Play USMLE Quiz June 2021🎓
USMLE Step 1 Quiz for June 2021 is out today. Play the quiz online. It will hardly take 5 minutes. Study questions carefully and play with peace of mind. We hope to see you score 5/5!
#3 Celebrating 55 Years of Guyana's Independence
On May-26, we celebrated 55 incredible years of Guyana's independence. We wish that this land of many waters continues to flourish and keep cherishing its freedom forever with proud and The Golden Arrowhead! Shots from Guyana's 55th Independence Anniversary celebrations held on Tuesday night at the Umana Yana Square, in Kingston, Georgetown:
Plus, you'd not like to miss the special message from H.E. Dr. K.J. Srinivasa, High Commissioner of India to Guyana, and Air Marshal (Dr) Pawan Kapoor, LAU Vice-Chancellor, celebrating 55th anniversary of Guyana's Independence with few highlights from the growth story of this incredible nation:
#4 Food For Brain: Newbies From LAU Blog
Fuel your mind with inspiration and take a step ahead to advance your career with these new insights from LAU Blog:
For more insights on the medical career, feel free to visit LAU Blog.
#5 Mother's Day: Her Love Is Forever.
#6 You Asked: How can I do clinical rotations in North America?
Clinical rotations in North America may be provided in affiliated hospitals associated with LAU during your clinical years.
Currently, depending on the choice of students, we offer clinical rotations in countries across Asia, South America with developing opportunities in Africa and North America.
For FAQs regarding admissions and all things LAU, visit the LAU FAQs section. For more details on clinical rotations, feel free to connect with us on LAU Student Helpline 1800-843-9595.
#7 Eid Mubarak: Concluding the Holy Month of Ramadan
On May-14, we concluded the holy Ramadan month of fasting and prayer which started on April-14. Given the COVID-19 pandemic, we offered Eid prayers at the campus only. Hopefully, next year, we will celebrate Eid in its full fervor as we did in all pre-COVID years!
#8 A Tale of Inspiration: The 99 Club!
There once lived a King who, despite a life filled with luxuries, was neither happy nor content. One day, the King came upon a common peasant who was singing happily while he worked. The happiness of a common man fascinated the King. Why was the ruler of the land with all the luxuries, unhappy and gloomy, while a lowly peasant had so much joy in his life? The King asked the man, "Why are you so happy?"
The man replied, "Your Majesty, I am a common man, but my family and I don't need much, just warm food to fill us and a roof over our heads."
The king was not satisfied with the man's answer. So, later in the day, he sought advice from one of his most trusted advisers. After listening to the King's woes, the adviser said, "Your Majesty, I believe that the man, you saw, has not yet been made part of The 99 Club."
"The 99 Club? What is that?" inquired the King.
The adviser replied, "Your Majesty, to understand what The 99 Club is, you first need to place 99 gold coins in a bag and leave it on the man's doorstep."
After a tiring day working in the fields, the man was returning to his house when the man saw a bag on his doorstep. He took the bag into his house and opened it. He let out a great shout of joy when he discovered that the bag was filled with gold coins.
He began to count all the gold coins. After several counts, he was convinced that there were 99 coins. He wondered, "What could've happened to that last gold coin? No one would leave just 99 coins!"
He looked everywhere he could, but he did not find the 100th coin. After a while, he was exhausted and decided that he was going to work harder than ever to earn that gold coin and complete his collection with the 100th coin.
From that day, the man's life was changed. He overworked and turned horribly grumpy. He castigated his family for not helping him achieve his goal to earn the 100th gold coin. He stopped singing while he worked and only thought about getting the 100th coin to complete his collection.
The king witnessed the drastic transformation in the man and was puzzled. The king asked the advisor why the man wasn't happy and satisfied anymore. The advisor replied, "Your Majesty, the man is now a member of The 99 Club."
He continued, "The 99 Club contains those people who have enough to be happy, but are not content, because they're always striving for the extra one telling to themselves: "I will be happy if I get that one final thing in my life."
Takeaway: We can be happy and content with a little in our lives. The minute desire to get bigger and better overpowers, we forget to appreciate what we already have and enter the world of discontent and unhappiness. We lose our sleep and our happiness. We distance ourselves from the people we love while striving for better. Lack of content is what joining The 99 Club is all about.
#9 Celebrating Healthcare Days: May 2021.
For World No Tobacco Day: You have heard this more than a thousand times – Tobacco kills. We'd like to say one more thing: Tobacco is not cool! Really, smart people don't do Tobacco. You decide for yourself.
World Thyroid Day: Be Thyroid-aware can help you make better at your medical job + keep yourself safe from it. To get started, go through Thyroid causes, symptoms, diagnosis, and treatment of the disease here.
International Nurses Day: Nurses are the backbone of the entire healthcare ecosystem. Without them, the medical system can't function. During COVID, how nurses worldwide have worked on the frontline is commendable. While a small thank is not enough for what they did for the community, still, we'd like to say: Thank you, nurses.
World Red Cross Day: On 2021 World Red Cross Day, we invite you to explore the story of Henry Dunant, the person who founded Red Cross, a humanitarian movement that is now a strong community of 97+ million volunteers working for human healthcare.
World Asthma Day: Asthma is the most common chronic disease among children and also impacts adults, taking 461000 in 2019 alone. See Asthma key facts, impact, causes, and its current state in medicine with WHO's Asthma Fact Sheet.
World Hypertension Day: Hypertension is when blood pressure is too high. World Hypertension Day 2021 focuses on hypertension awareness with its campaign: Measure Your Blood Pressure Accurately, Control It, Live Longer. Know more on this with WHO's Hypertension Fact Sheet.
#10 Corona Times Update.
Did you know that Guyana's Potaro River is home to the world's widest and longest single-drop waterfall called "Kaieteur?" And because of the numerous rivers, creeks, and streams that flow throughout the country, Guyana is also called the "land of many waters."
Corona Times
A New Drug for treatment of COVID 19 has been developed by DRDO in collaboration with Dr. Reddy Lab. This drug is known as 2DG which is chemically known as 2 Deoxy D glucose. It is a glucose analogue. This is a repurposed drug that was meant for treating tumor cells.
Chemical structure : C6H12O5
Availability: The drug comes in powdered form in sachets which can be dissolved in water and can be taken orally.
Storage: The sachets are required to be stored at a temperature below 25 degrees Celsius.
Dose: To be taken orally twice a day at twelve hourly interval for a duration of five to seven days.
Efficacy: Initial Clinical Trials have revealed that it reduces the dependency on supplemental oxygen and reduces the period of hospitalization. The drug is expected to help prevent patients from progressing from moderately severe cases to severe, complicated cases.
Effectiveness against variants: As all variant would need glucose and this mimic of glucose will be taken up by the variant virus as well thereby affecting its growth and multiplication, the drug will be equally effective in the variants.
Side effects: During the clinical trails only benefits were seen and no side effects were reported.
Expected price: INR 500 to INR 600. Government may subsidize the price of the sachet.
Emergency Use Authorization as an adjunct therapy for COVID-19 has been provided by the Drug Controller General of India in May 2021.
Let us hope that 2DG turns out to be the wonder drug that we have been waiting for against COVID-19.
đŸ§©Quiz [The Answer Is Hidden In Text of This Newsletter.]
As of June 2021, approximately how many volunteers are working for International Red Cross and Red Crescent Movement?
A. 96 million
B. 97 million
C. 98 million
D. 99 million
Chose the most appropriate answer: The new drug 2DG discovered by DRDO and Dr. Reddy's Lab is expected to treat COVID 19 by way of:
A. Its anti inflammatory effects
B. Combating the cytokine storm
C. Reducing supplemental Oxygen requirements
D. Arresting the multiplication of the Coronavirus
😂For A Good Laugh: