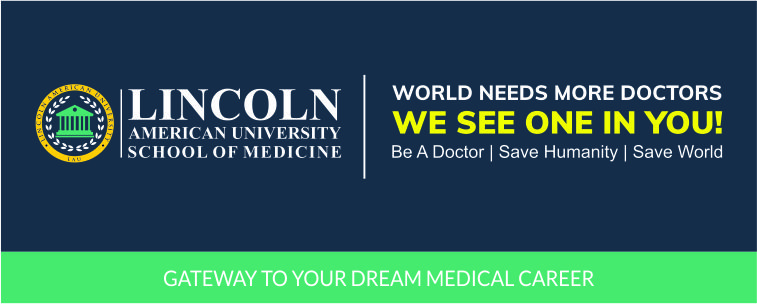 Hello Doctors, Doctors-To-Be!
Hope the April Fool month has been going well for you, and y'all are having a good time making daily progress in your journey to become a doctor! To get you going, here are some fun and inspiring stories and moments coupled with some knowledge stuff, all from your LAU Fam:
1/ When will you live? — A message from Vice-Chancellor.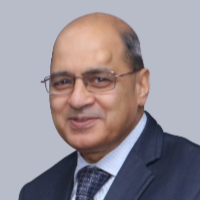 Dear Students,
You all are brave. How can I say so? Well, you have chosen one of the most daring professions and life out there: The medical profession and life of a doctor.
Today, I want you to pause and think: "Being in the medical profession, what's going to be my biggest struggle in life?"
Some of you may think that undergoing these 5 or 6 years of rigorous curriculum and medical training will be the most challenging part of your career and the most demanding phase of your life. Let me tell you: It's not.
On the contrary, these five or so years of your medical college and training are the most carefree, enjoyable, and soft years as far as the life of a medical professional is concerned.
At present, you have weekends, you go out unplanned and enjoy carefree life at times, you operate on 'models' in a lab and are free to make mistakes in treatment without any risk of losing a life.
Now, imagine your life as a doctor. You will have weekends and some free time but do not know when you will get a call from the hospital calling for an emergency. You will be operating on real people in the operation room, leaving no space for carelessness.
Now, also recall your life when you were there in school. And compare your school days to your current life. You might be thinking: "Oh, those were the most carefree days of my life. I want to go back in time and relive those days."
Did you get the point? Work, study, stress, responsibilities, hustle— all these things will always be there in your life. No matter what stage of life you are into. If you think that this is the only struggle phase and once I clear this and that exam, or once I become a doctor, everything will be smooth— You are getting it all wrong. Life doesn't work that way.
If you wait for a time when you will have no responsibilities, no stress, and have got all the things you hope to get one day, you will keep waiting.
So, my dear students, now is the time to live. Do study, work hard, and bear the pressure of exams (I know it's unavoidable), but don't forget to be happy every day. Because whatever you might be going through, now is the only time to live. Now is all we have got.
Best wishes,
Air Marshal (Dr) Pawan Kapoor
AVSM, VSM, and BAR (Retd),
Former Director-General of Medical Services (IAF),
Vice-Chancellor, Lincoln American University
2/ We played our own T20!
Is there anything like cricket? Nope. That's why we have got our own cricket teams now: The Lions and The Pirates. It's T20. If you missed the live match, catch the glimpse👇
3/ Not just another meet: LAU Annual Meet 2022..
We organized the 2022 Annual Meet in The White City, Udaipur. Among esteemed guests and University delegates, H.E. Charandass Persaud, High Commissioner of Guyana to India, graced the meet as chief guest and enlightened us all with his wisdom and inspiring remarks. If you couldn't make it to the live meeting, you can have a quick catch-up here:
4/ Holi in full fervor. Together.
When pictures are this colorful and splashing joy, we are left with no words but (say with us) Happy Holi 👇
5/ Good luck students for the next MD phase!
Good luck to our fresh batch of students who flew from India to Guyana Campus this month for the next phase of their medical program 👇
6/ A day of 'day out fun' 😀
Yeah, we all here took a day off to go out, have fun, and enjoy some splashing time. Thanks Student Governing Council for organizing this wonderful picnic 👇
7/ đŸŽ—ïžFor your health: Go offtime.
You have got a smartphone. You have got a PC. And maybe, you have also got an iPad or something. You might be doing a lot of work on your computer: Research, online classes, exam prep, oh, and video meetings too. Then you're on your phone, catching up with your friends and family on WhatsApp, browsing some old photos, or just scrolling through your social media feed, in your, well, free time. No wonder, a 2021 report claimed that an average person consumes close to 5 hours per day on smartphone.
At the end of the day, you wonder: How did all day pass? Where is the time to relax and rejuvenate? And then, you go to sleep feeling burned out and unfulfilled with your time.
That's why you need offline time. We love to call it "offtime." By offtime, we mean putting all your gadgets down (yes, including your smartphone) and spending 30 minutes or so offline. No internet. No screens. Just you, without all distractions. Once you do this, ask yourself: "Was it worth it?" You will get your answer (along with good relax).
8/ Read. Lead. Succeed. — Handpicked stories for you.
Expand your medical knowledge with these handpicked stories for you:
For more insights on the medical career and updates, visit LAU Blog.
9/ Air to a drowning man: A lesson in willingness.
A young man once approached Socrates and asked the philosopher how he could acquire wisdom and knowledge.
"Follow me," Socrates said in response, as he led the young man down to the sea. The young man followed as Socrates began wading through the water, first at ankle, then knee, then waist, and finally to shoulder height.
Then, rather abruptly, Socrates grabbed the young man and dunked him under the water. The young man struggled desperately, and just before he blacked out, Socrates pulled him up.
Infuriated, the young man screamed, "What are you doing?! Trying to kill me?"
Calmly, Socrates responded, "Absolutely not. If that was my intention, I would not have pulled you up."
"Then why did you just do that?" the young man gasped.
"When you want wisdom and insight as badly as you desired that breath of air, then you shall have it," Socrates replied while looking the man in the eyes. Then, he turned to the shore and walked away.
Lesson: In life, when you really want something, you always find a way to get it, you always muster up the courage to go for it, leaving all excuses aside. That's why to achieve something meaningful in life, first you must have a willingness. Everything else goes after that.
10/ #AskLAU: You Ask. We Answer.
Q. Do I need to give MCI exam after completion of MBBS from Lincoln American University?
A. If, after completion of the MD Program at Lincoln American University, you wish to practice in India, you need to give MCI screening test to get a license to practice in India.
More questions? Visit LAU FAQs section or contact us.
đŸ§©Quiz [The answer is hidden in the text of this newsletter.]
As per 2021 report, how much time an average person spent on smartphone:
A. Close to 4 hours per day
B. Close to 5 hours per day
C. Close to 6 hours per day
D. Close to 7 hours per day
😂For A Good Laugh: