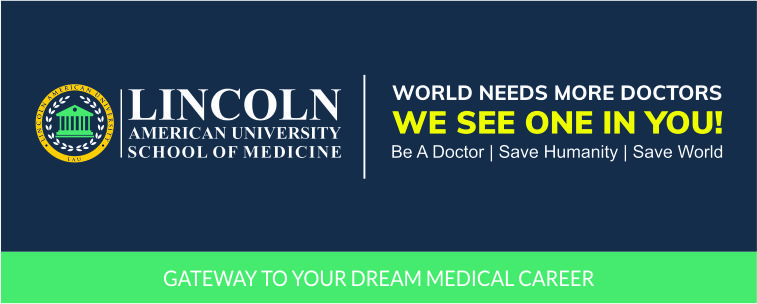 Hello Doctors, Doctors-To-Be!
February's a month of love, peace, and joy. Hope you had lots of all these in short and sweet Feb. Now, take a 5-minute break to jump into some inspiration, updates, stories, and moments from your LAU community:
1/ Balancing Empathy & Detachment— A message from Vice-Chancellor.
Dear Students,
"Empathy is the medicine the world needs," goes the famous saying. Especially in healthcare, when patients and their family members are going through physical and emotional pain, it becomes vital for you, the caregiver, to be empathetic and show that you really care.
At the same time, to provide good care to your patients, you also need to stay detached from them at the emotional level. Being free from any sort of emotional burden is essential to remain objective and take medical decisions fearlessly, in the best interest of your patients.
That's where the challenge comes for you: Balancing empathy and detachment to provide the best medical care.
Well, it's an art, and just like any other art, you can learn it by practice. Show empathy to your patients, express to them that you understand what they are going through to make them feel comfortable and safe, but don't get involved at an emotional level. As a medical professional, you need to be soft and empathetic for your patients outside but firm and detached inside.
For a moment, think of a doctor, unfortunately, losing a patient in the operation room, despite all endeavors. He walks out of the room and breaks the sad news to the patient's family, saying sorry. What's next? Can that doctor allow that loss to break self emotionally? Cancel all other operations for the rest of the day/week? Take a week or so off to mourn? No. Not at all. That doctor has lots of other operations to do and many other lives to save.
That's why every great doctor needs to strike a perfect balance between empathy and detachment. Do the best work but not get excited or hurt by the result. Be empathetic but not attached. You need to as well. So, starting today, balance empathy & detachment, always.
Best wishes,
Air Marshal (Dr) Pawan Kapoor
AVSM, VSM, and BAR (Retd),
Former Director-General of Medical Services (IAF),
Vice-Chancellor, Lincoln American University
2/ Welcoming new batch to the basic sciences program!
After completing the 1-Year Pre-Med program in India, they are joining us at the Guyana campus for the rest 4 years of the 5-year MD Program. We wish all students the very best at LAU 👇
3/🎗️For your health: Enjoy some creative hobbies..
All work and no play can make not only "Jack," but you as well, a dull person! That's why besides your routine work, you must spend some time playing and enjoying creative pursuits. Developing a creative hobby is a great way to do that. You know one study also found that "mental stimulation through a creative hobby increased wellbeing by 13%." So, try to immerse yourself in creative activities that involve healthy movement, both mentally and physically. Think writing, painting, playing an instrument, gardening, photography, dancing, etc. Go on. Enjoy some creative hobbies.
4/ New Pre-Med starts at LAU + Sharda Campus.
After going through the NEET battle, our fresh batch of students from India has started the first year of the MD Program, i.e., Pre-Med program at the Sharda University campus. After completing Pre-Med, all students will begin their Pre-Clinical Program at LAU Guyana campus. Let's congratulate them on the new journey👏
5/ Inside operation room: A moment worth sharing!
In the photo: LAU Student Rakesh Jugaram, who has been completing his clinical rotations at Manmohan Memorial Teaching Hospital, Nepal, assisting the doctors performing surgery.
6/ Read. Lead. Succeed. — Handpicked stories for you.
Expand your medical knowledge with these handpicked stories for you:
For more insights on the medical career and updates, visit LAU Blog.
7/ From the LAU e-Library: USMLE Guide.
Are you preparing for USMLE? We hear a yes! Well, our free e-book "Beginner's Guide to USMLE" can help you. Download your free copy from the e-library 👇
8/ You get what you give: A tale of righteousness.
There was a farmer who sold a pound of butter to a baker. One day the baker decided to weigh the butter to see if he was getting the right amount, which he wasn't. Angry about this, he took the farmer to court.
The judge asked the farmer if he was using any measure to weight the butter. The farmer replied, "Honor, I am primitive. I don't have a proper measure, but I do have a scale."
The judge asked, "Then how do you weigh the butter?"
The farmer replied, "Your Honor, long before the baker started buying butter from me, I have been buying a pound loaf of bread from him. Every day when the baker brings the bread, I put it on the scale and give him the same weight in butter. If anyone is to be blamed, it is the baker."
Lesson: In life, you get what you give. Don't try and cheat others. Always practice righteousness in your work and life.
9/ #AskLAU: You Ask. We Answer.
Q. How can I do clinical rotations in North America?
A. Clinical rotations in North America may be provided in affiliated hospitals associated with the University during your clinical years. Currently, depending on students' choice, we offer clinical rotations in countries across Asia and South America with developing opportunities in Africa and North America.
More questions? Visit LAU FAQs section or contact us.
10/ Guyana Byte: Know a bit more about Guyana.
Indo-Guyanese is the largest ethnic group in Guyana identified by the official census, about 40% of the population in 2012. [Source: Wikipedia.] /p>
🧩🧩Quiz [The answer is hidden in text of this newsletter.]
As per one study, mental stimulation through a creative hobby increased wellbeing by:
A. 9%
B. 11%
C. 13%
D. 15%
😂For A Good Laugh: