May 08, 2019, Georgetown, Guyana
April 27 to May 02, 2019 has been the week of Lekkside Education Fair, Nigeria's leading International Education Fair (hereinafter referred to as "Education Fair" or "Fair").
Spanning over a period of six days timeline, the Education Fair was organized in three different cities of Nigeria on different days to help students in Nigeria to find the right career path and explore suitable colleges and universities for higher education abroad:
| | |
| --- | --- |
| Date | Venue City |
| April 27, 2019 | Lagos, Nigeria |
| April 30, 2019 | Abuja, Nigeria |
| May 02, 2019 | Port Harcourt, Nigeria |
On behalf of Lincoln American University, School of Medicine (LAU), Ms. Prerna Lama, International Officer at LAU and Mr. Mudit Dargan, International Admission Advisor at LAU participated in the Fair to provide counseling and guidance to Nigerian students aspiring to become doctors and looking for opportunities to study medicine abroad.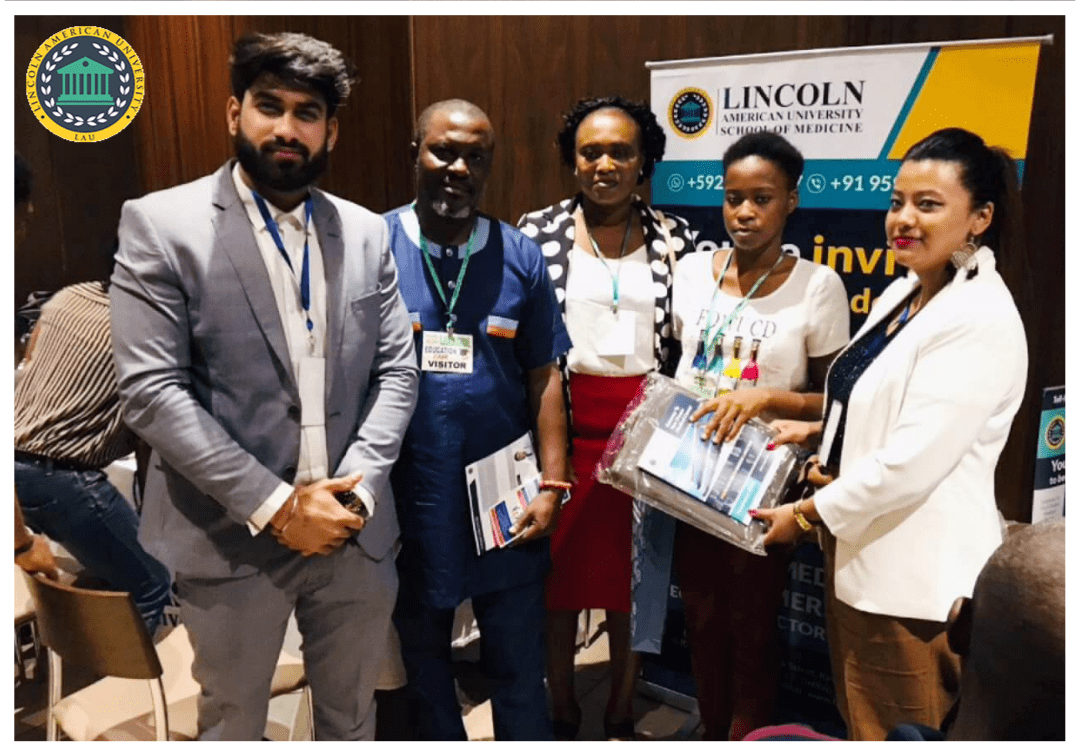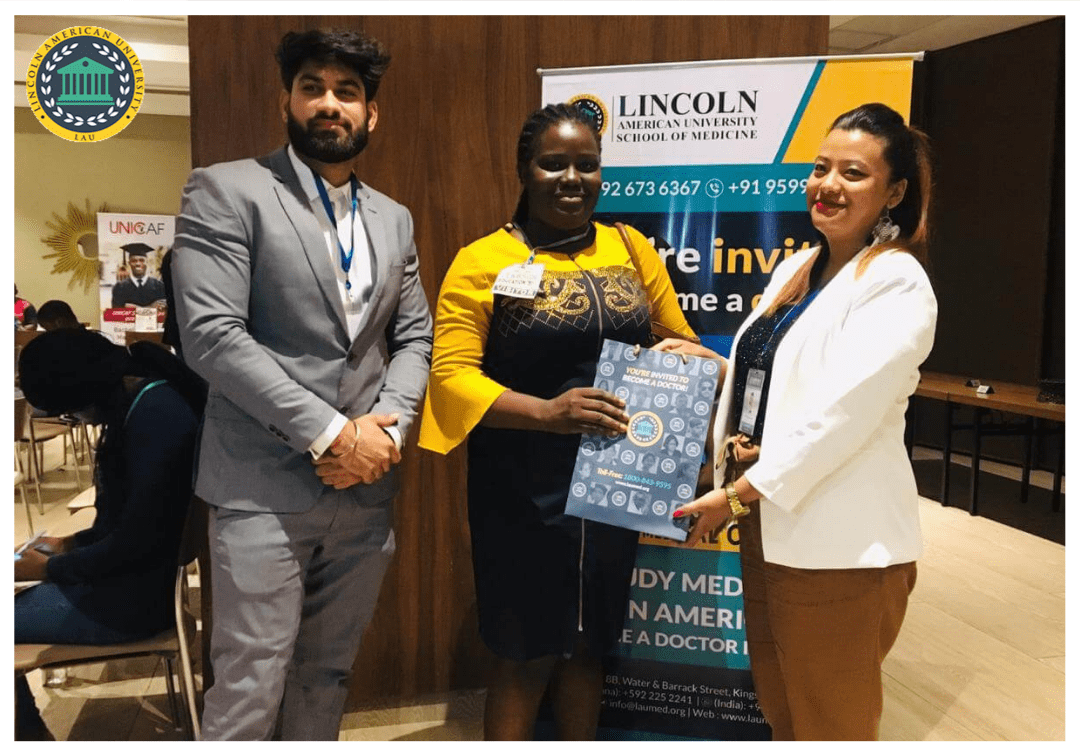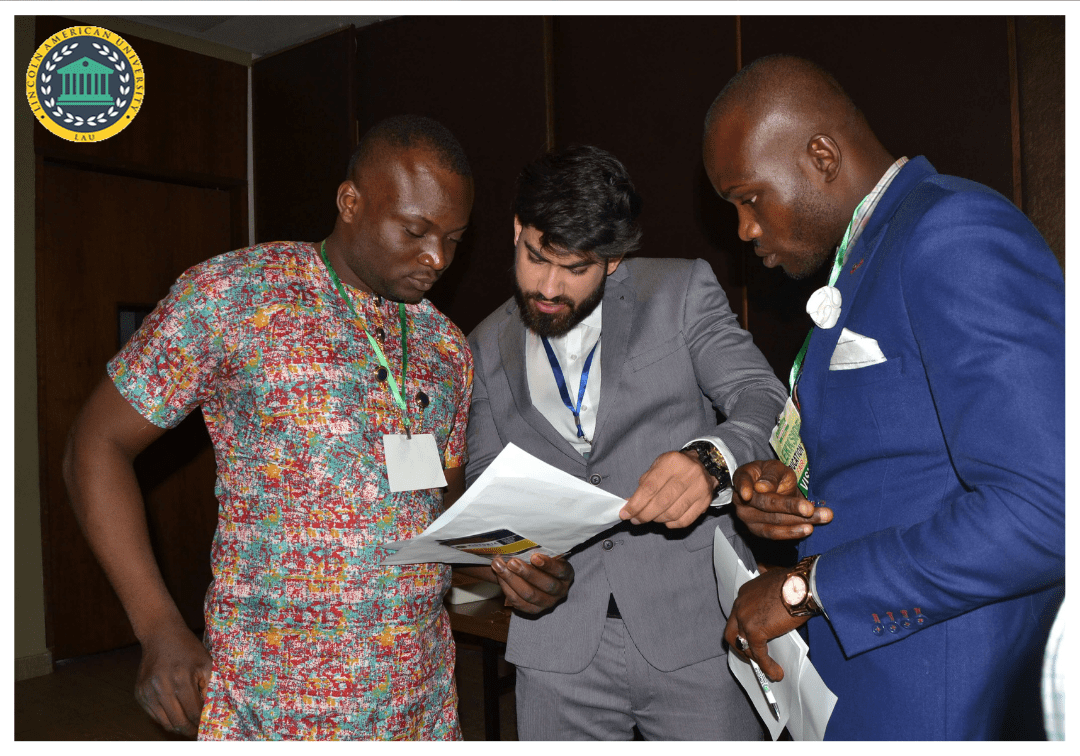 Ms. Prerna Lama, International Officer, LAU and Mr. Mudit Dargan, International Admission Advisor, LAU with students and guardians at Lekkside Education Fair, Lagos, Nigeria
The Fair was an exciting opportunity for all the medical aspirants in Nigeria to meet International Counselors and Admission Advisors of LAU in their home country, receive in-person counseling and get all their queries resolved regarding education abroad and questions specific to medical education in America and medical programs offered at Lincoln American University.
Besides principles and professors from different schools and universities and professionals from various industries, about 8000 students attended the fair along with their parents and guardians. Hundreds of medical aspirants visited LAU desk and raised their doubts and concerns regarding medical programs, eligibility criteria, admission procedure, food facility, fees structure, Visa procedure, overall onboarding experience, travel arrangements, living cost, scholarships, career prospects, job opportunities ahead and everything in between!
In the Fair, arrangements were made for one-on-one interaction between students and University counselors while common questions were answered in groups. During discussions, participants were able to clear their significant doubts regarding medical education abroad and got first-hand information about academic programs offered by LAU to study medicine in South America. It was a wonderful occasion, for the students as well as their guardians alike, to speak directly to LAU representatives and get their queries resolved instantly.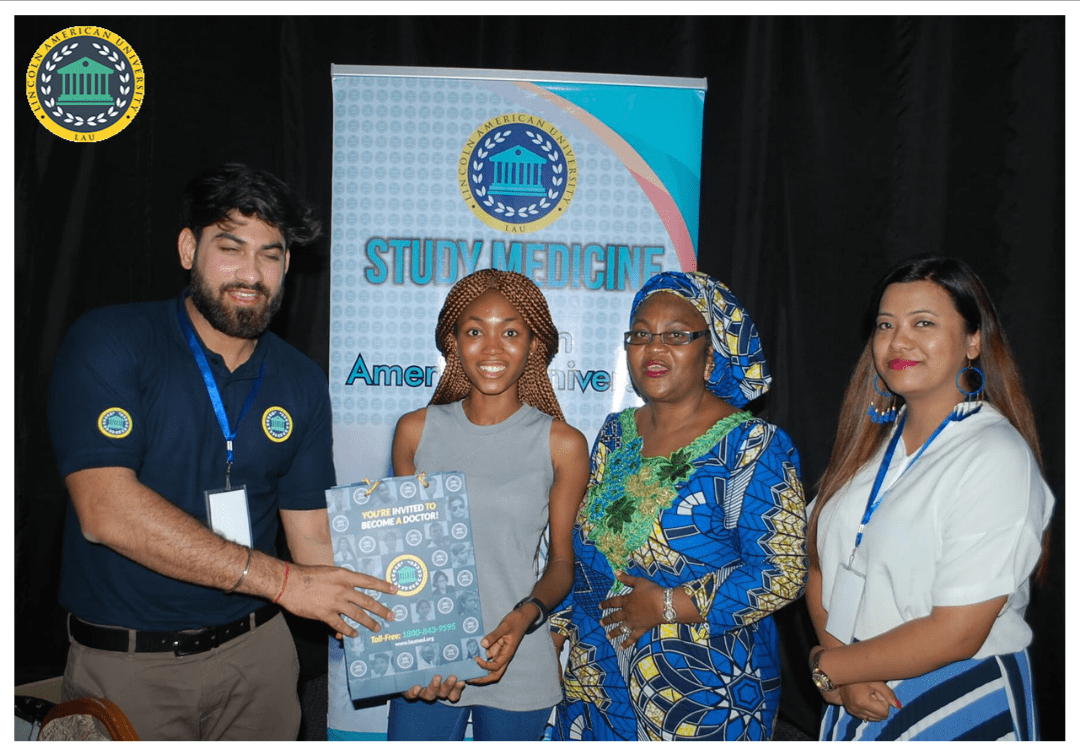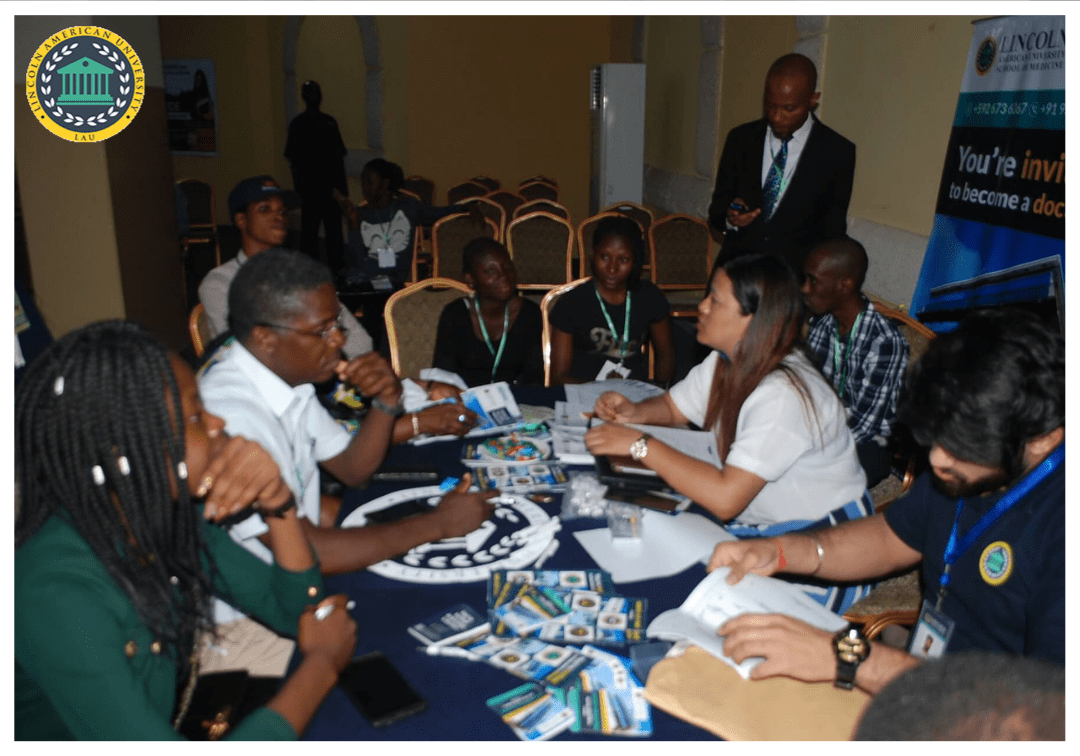 Ms. Prerna Lama, International Officer, LAU and Mr. Mudit Dargan, International Admission Advisor, LAU with students and guardians at Lekkside Education Fair, Abuja, Nigeria
On occasion, participants looked happy on getting satisfactory responses as while most of the information is available online, getting the information right from the counselors was a quick and more fulfilling experience.
In the Fair, participants were made familiar with global opportunities that LAU offers with its 5-Year US-based MD Program which is recognized in India, Canada, USA, and other countries worldwide. They were also apprised about work and living opportunities in Africa, Asia, Caribbean, USA and other countries in America after their graduation from LAU.
Apart from counseling and guidance, students got much more to know and experience! During the fair, students gauged into the LAU prospectus distributed for free and were also provided a glimpse into Campus Life via a virtual tour of LAU campus situated in Georgetown, the capital city of Guyana, a beautiful English-speaking country in the Caribbean.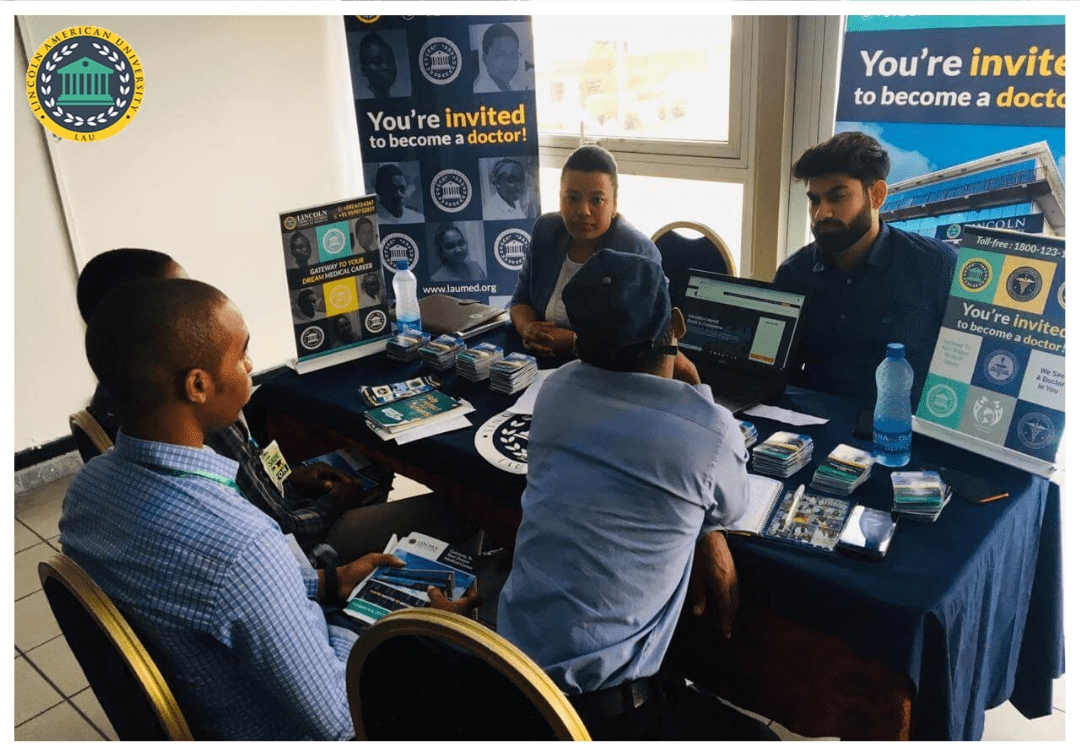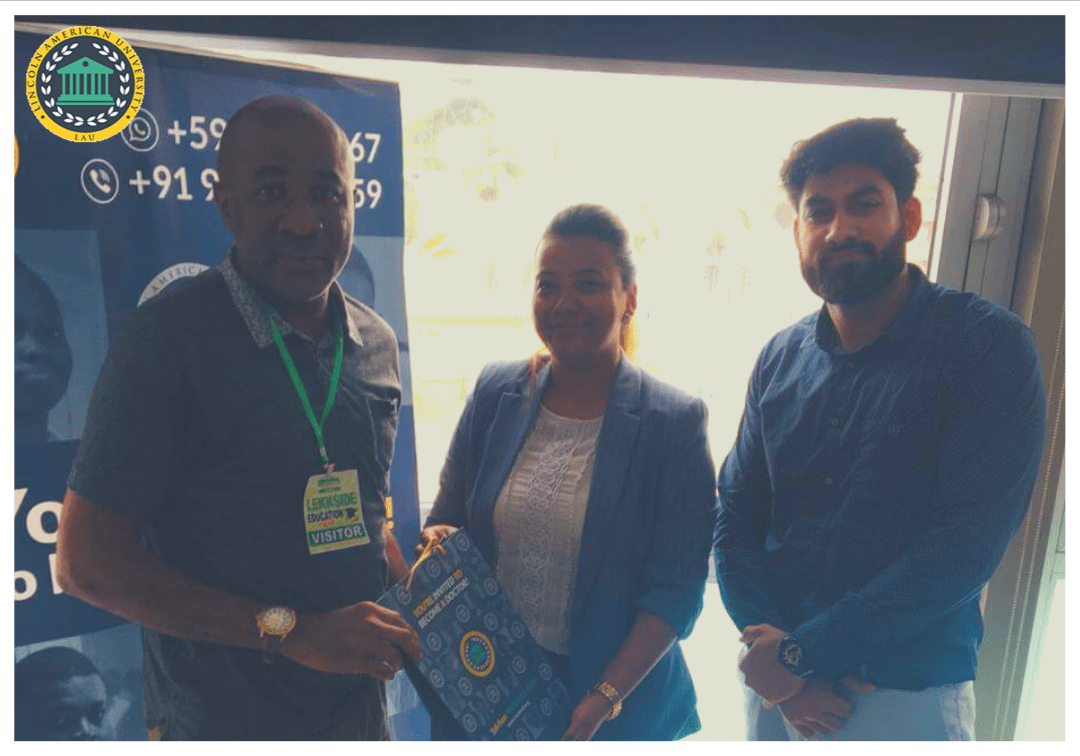 Ms. Prerna Lama, International Officer, LAU and Mr. Mudit Dargan, International Admission Advisor, LAU with students and guardians at Lekkside Education Fair, Port Harcourt, Nigeria
For students who could not attend the Fair, our International Officer went live on Inspiration FM and Bind FM and held an on-air chat with the medical aspirants of Nigeria. It was an excellent opportunity for Nigerian medical students to ask their queries on-the-go or from their home and get to know Lincoln America University, explore details of our 5-Year MD Program, eligibility criteria, and simple admission process for medical education in America.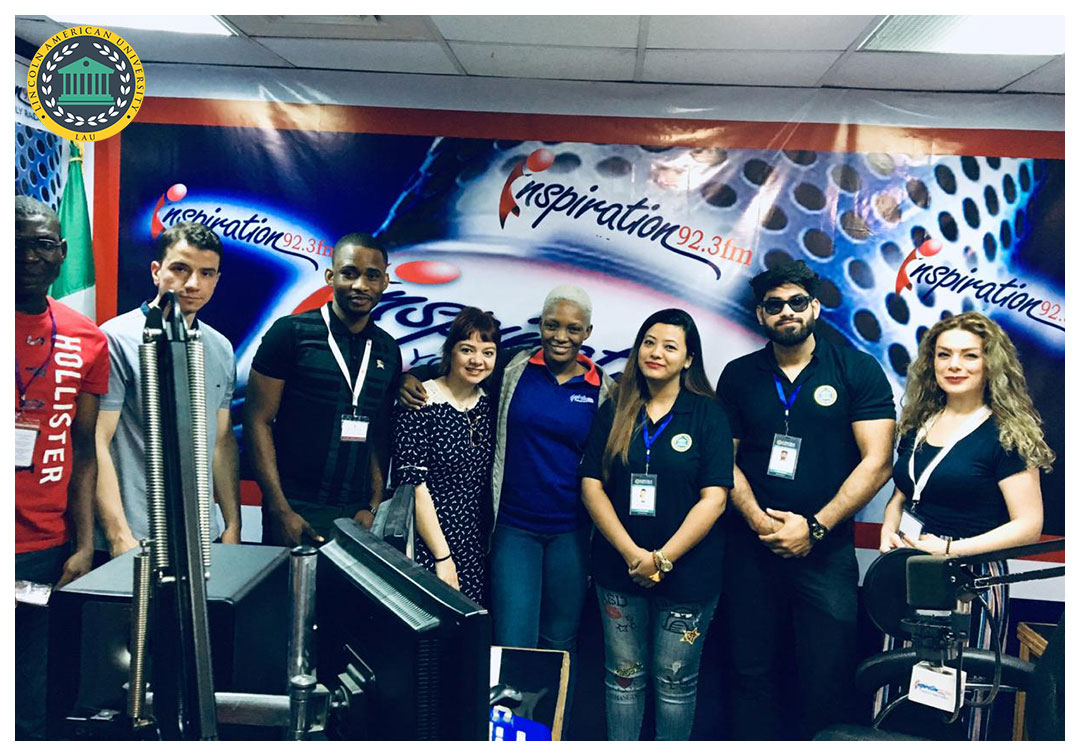 Ms. Prerna Lama, International Officer, LAU and Mr. Mudit Dargan, International Admission Advisor, LAU with Inspiration FM Team in the city of Lagos, Nigeria
The event proved to be a golden opportunity for students looking for quality medical education in an affordable and well-recognized medical college in America. Future physicians found our 5-Year MD Program at par with their choice for a well-recognized medical school and expressed their interest for enrollment and study medicine in Guyana, given the opportunities for International Clinical Rotations and affordable fees structure of Lincoln American University.
During the event, individual profiles of interested candidates were reviewed by our counselors and eligible students were allowed to file on-spot applications. Students with above 80% marks were also offered a chance to get a partial scholarship! Students who were carrying their transcripts with eligible scores got on-spot admission while the rest of the students got counseling and guidance that will help them in their career ahead.
We are grateful and happy for all the students who took advantage of the opportunity and wholeheartedly congratulate all the students who got admission to our medical course and going to study MD in Guyana and wish them all the best as they embark on their journey of becoming a doctor. We also express our thanks for all the participants for taking time to visit us, putting their concerns before us, allowing us to interact with them and making the event lively and worthy of all the efforts and hard work that our team and Fair organizers put in.
The Fair was a collaborative exercise between organizers, support staff, and all the participants including University representatives, students, and their guardians and got an overwhelming response. In the event, students were able to get a glimpse into medical education opportunities worldwide, common challenges faced during education abroad and the opportunities that Lincoln American University offers to them. Information provided in the Fair by our expert counselors will surely help them make informed choices regarding their medical career.
Currently, 150+ students from countries across Asia, Africa, the Caribbean, and other regions are studying medicine at Lincoln American University. About 20% of the students are from African countries including Ghana, Tanzania, Nigeria, etc. With such a diverse community of students, LAU provides a home-like atmosphere to all the students with an environment of academic excellence and has become one of the fastest growing medical universities providing quality medical education in South America region.