MBBS Admission After NEET: Q&A with Mable Pereira, A Medical Aspirant from India Who Qualified NEET in 2019
Mable Pereira is an aspiring doctor from Goa, India. In pursuit of her vision to become a doctor, Mable qualified one of the most prestigious Medical Entrance Exams in India to pursue higher medical education, i.e., the National Eligibility cum Entrance Test-Undergraduate or NEET in 2019.
Given the fact that there are not many medical universities in India in comparison to the number of students who qualify NEET, Mable was looking to get MBBS Admission in one of the medical universities abroad.
Why getting MBBS admission in India is tough?
For all the NEET qualified students, only 67,000+ medical seats are available that creates a huge gap in the number of medical seats required versus the number of medical seats available. In NEET 2019 only, a record of 14,10,755 students appeared while 7,97,042 students qualified for the exam.
While searching for well-recognized universities to study medicine abroad, Mable found out about Lincoln American University, contacted one of the Admission Advisors, got the entire information regarding the process of MBBS Admissions after NEET, submitted the required documents, and joined Lincoln American University to study medicine in Guyana, South America.
Before departure to Guyana, we got an opportunity to have a conversation with Mable and get to know the inception of her journey with the University, her medical career plans, and advice for fellow medical aspirants who will be appearing for NEET 2020 Exam which shall be held in May in the year 2020.
Here is an edited excerpt of our brief conversation with Mable who is going to start her medical course in Guyana at University's Campus in Georgetown City and is well on her way to become a doctor by 2024:
How did you come to know about Lincoln American University? How was the admission process?
Mable Pereira: I am Mable Pereira from Goa, and I will be joining Lincoln American University this year. I came across the official website of LAU, and then I tried to contact the counselors. I contacted one of their counselors named Akansha. She approached me. She gave me the information about the college, [Course] details, the fee structure, and how they function and then she asked me to send my document. All things were done by her – All Visa Process and all entire [things].
What are your future career plans?
Mable Pereira: During the internship [Clinical Rotations], I will decide which field I am comfortable with.
Any messages for Fellow Students?
Mable Pereira: Try your best. Do it. You can give another try. You can choose to come to Lincoln American University because there are not many Universities in India, so you have to think out of the box. If you have your determination and will, you have to do it.
On Occasion, we wish Mable the very best for her new journey and wish her all success for her medical career — Best of Luck, Mable!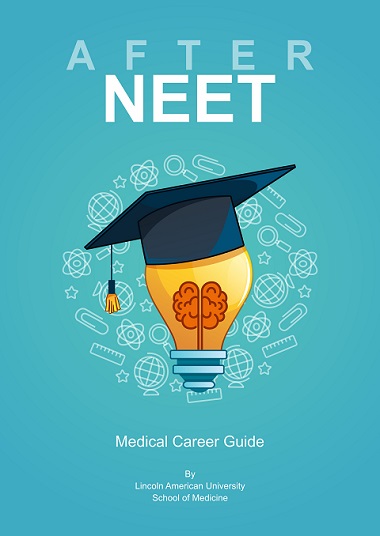 For students who have qualified NEET, Lincoln American University offers direct admission to its 5-Year MD Program, which is equivalent to MBBS. The program includes a 1-Year Pre-Medical Program, a 2-Year Basic Sciences Program, and 2-Year Clinical Rotations Program.
For students who are yet to qualify NEET, Lincoln American University organizes 1-Year Pre-Medical + NEET Preparation Program. Under the program, students study Pre-Medical (first year of MD ~ MBBS Program) on weekdays and get NEET coaching on weekends. With the balanced approach, students can qualify NEET as well as complete the first year of Medical Program in just one year. Once they qualify NEET, they are directly admitted to 4-Year MCI Recognized MD ~ MBBS Program organized on LAU Campus in Guyana, South America.
With these programs, both NEET qualified as well as the NEET unqualified students get an equal opportunity to become a doctor in 5 years.