Manmohan Memorial Teaching Hospital (MMTH), Nepal
Manmohan Memorial Teaching Hospital (MMTH) is a leading medical hospital situated in Kathmandu, the capital city of Nepal, operating under Nepal Health Care Co-operative Limited (NEHCO). MMTH was established in 2013 by NEHCO under the name of Former Prime Minister of Nepal, Late Manmohan Adhikari, to provide quality medical education and ensure proper health service delivery and health research in Nepal.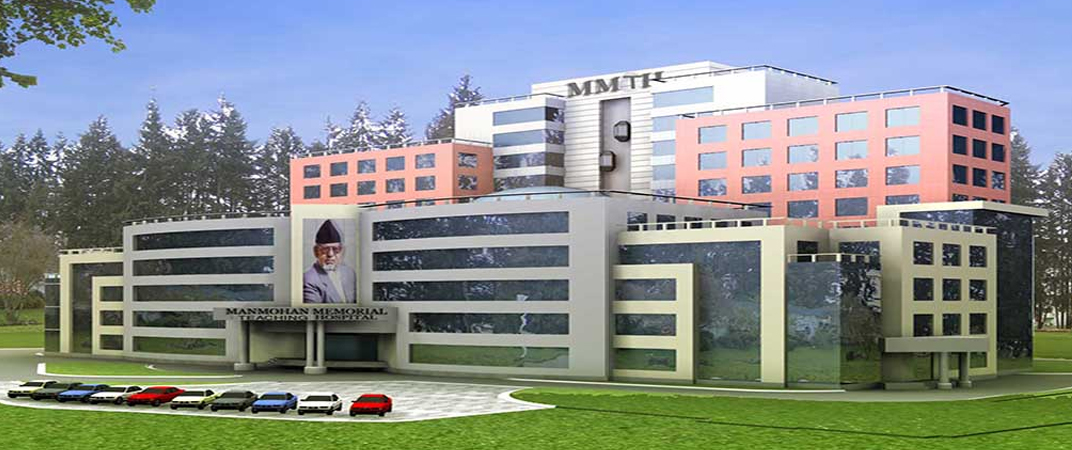 To provide the people in Nepal with affordable healthcare services, MMTH has released one of its kind Special Health Package Services and Social Health Services especially to help people living in rural areas, senior citizens, and differently abled.
Currently, MMTH houses 300 hospital beds with well-equipped healthcare services and provides 24-Hour emergency services with its state-of-the-art medical facilities like Radiology, OPD, ECG, Ozone Therapy, Test-laboratories, etc.
"Working for a healthier society."
- Manmohan Memorial Teaching Hospital

Key Facts About Manmohan Memorial Teaching Hospital
| | |
| --- | --- |
| Year of Establishment | 2013 |
| Location | Kathmandu, Nepal |
| Hospital Beds Capacity | 300 |
| Hospital Management | Nepal Health Care Co-operative Limited (NEHCO) |
Specialties & Services Of Manmohan Memorial Teaching Hospital
Anaesthesiology
Cardiothoracic surgery
Dental care
Dermatology
Emergency and Family Medicine
Endocrinology
ENT (Ear/ Nose/ Throat) Care
Gastroenterology
Gastrointestinal
Geriatrics
Gynaecology & Obstetrics
Head and Neck Surgery
Haemodialysis
Internal Medicine
Nephrology
Neurology
Pathology
Paediatrics
Physiotherapy & Rehabilitation
Pulmonology & critical care
Radio Imaging
Spine Surgery
Urology (Open / Endo)
24-hour laboratory services
Ozone Therapy
24-hour emergency services
Others
Clinical Rotations At Manmohan Memorial Teaching Hospital For Lincoln American University Students
We, at Lincoln American University, are proud to count Manmohan Memorial Teaching Hospital of Nepal among our list of affiliated hospitals for clinical training of our students during the Clinical Sciences Program.
As part of the clinical experience in MMTH, students of Lincoln American University will be able to gain hands-on experience in various medical fields and in the subject of their specialization and will get ready for the international practice of medicine by the time they complete their MD in Guyana.