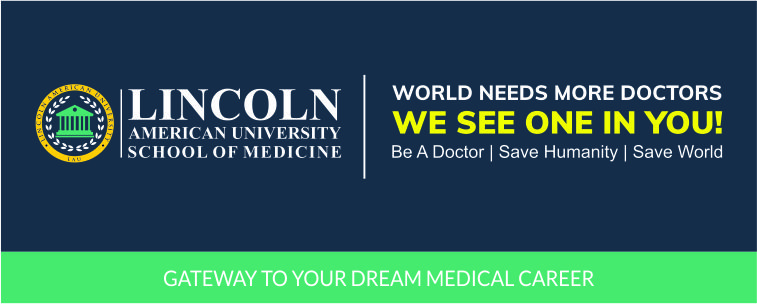 Hello Doctors, Doctors-To-Be!
We are closing 2021 by celebrating multiple achievements, good memories, and a year that made us stronger and better for the future. This is to 2021 + you:
#1 You made 2021 great 'ÄĒ A message from Vice-Chancellor.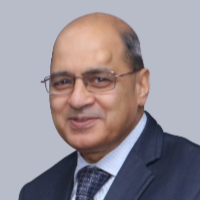 Dear Students,
Before we bid 2021 a goodbye, now is the good time to pause and look back at the last 12 months, celebrate our shared milestones as a community and medical fraternity.
We started the new year with the COVID threat and hope of a novel vaccine that will save us from the novel and dreadful virus. Thanks to the untiring efforts of our health scientists, we got the COVID-vaccine in such a short period, and India celebrated an incredible 100-crore vaccine dose mark on 21-October. We celebrate and applaud this remarkable achievement, one of the greatest breakthroughs that the healthcare community has seen in over a century.
In the first quarter, our very first batch of students started clinical rotations in Nepal and India - LAU's first-ever clinical rotations.
We also released our inaugural edition of the LAU annual magazine this year. We had another batch start clinical rotations in Guyana. And our students met Minister of Health, Guyana, Dr. Frank C.S. Anthony.
In the second half, we celebrated Doctors Day as National Superheroes' Day to honor our healthcare professionals who worked selflessly on the frontline throughout the year. We also expanded medical opportunities for you with another international collaboration with the Singhania University of Rajasthan, India.
Amazingly, we got to work with H.E. Charrandass Persaud, High Commissioner of the Republic of Guyana in the Republic of India, for a 3-year student visa facility. After those shared efforts, Indian students can now get a 3-year direct study visa for Guyana. That's remarkable.
In the final quarter, we had a celebratory moment when we got the opportunity to give a warm welcome to the High Commissioner of Guyana to India H.E. Charrandas Persaud, who graced the LAU Indian office with his esteemed presence. H.E, Mr Charrandas Persaud also honoured us by visiting the University at Guyana.
Together with the support of H.E, and the cooperation extended by Shri Arun Gupta Managing Director, Bank of Baroda, Guyana, Ms Azeena Baksh, Registrar Lands and H.E Dr J Srinivas, High Commissioner of Guyana to India , LAU procured 51.4 acres of land at Mahaicony, East Coast Demerera. We shall now be in a position to construct our very own campus at Guyana.
On top of it all, we celebrated two orientation ceremonies this year, organized 15 live seminars, and helped hundreds of medical aspirants get the proper career guidance from our experts and get admission to the LAU MD program.
Overall, while 2021 has been challenging, we together made it a great year. And I am proud to say that we are better now as a community and as a university than we were at the start of 2021. And I am optimistic that we are going to make 2022 as well a great one together.
So, cheers to all the great achievements, work, and good memories 2021 encapsulated for us.
And yes, it's all possible because you trusted us, supported us, and participated in our endeavor of making medical education and healthcare accessible for everyone. So, thank you for making 2021 a great year.
Best wishes,
Air Marshal (Dr) Pawan Kapoor
AVSM, VSM, and BAR (Retd),
Former Director-General of Medical Services (IAF),
Vice-Chancellor, Lincoln American University
#2 Meeting with H.E. Dr. J K Srinivasa, the High Commissioner of India to Guyana
Air Marshal (Dr) Pawan Kapoor and H.E. Dr. J K Srinivasa, the High Commissioner of India to Guyana, had an interactive meet in which medical education issues in general and the expansion and growth of LAU in Guyana were deliberated upon. The High Commissioner assured full support to LAU for their plan to develop infrastructure, widen their scope of academic activities, and strive to attain more excellence in imparting medical education. Here are glimpses from the meet:
#3 Fresh batch starts clinical rotations at Max Healthcare, India.?
We congratulate all the 60 medical aspirants in the new batch of our 4th year MD students who started clinical rotations at Max Healthcare, Delhi, India. Best of luck with the latest step in your medical journey. And for the memory, few snaps from the induction program:
#4 ūüéóÔłŹFor your health: Start journaling.
You know what, not being able to express yourself is one of the most contributing factors to poor mental health. Sometimes, you are going through a whole bunch of problems at the same time; you may have that exam coming up you are yet to prepare for, you may be dealing with some sort of personal or family issue, or you may be finding the situation around like pandemic too much to deal with. And on top of all this, you may be finding it difficult to talk to someone about it all, to express yourself.
What can you do in that situation?
Well, write. Plane and simple: Just write your thoughts and feelings down. And if you want to call it in style, call it 'Äújournaling.'ÄĚ
Journaling is the practice of regularly writing down your thoughts and feelings on paper or in a diary. It is a form of expression and helps you sort out your thoughts and emotions.
Journaling is proven to reduce anxiety + stress and even help fight severe diseases and situations like depression and trauma.
Start journaling, and you will see the positive impact on yourself. Better do it daily. And yes, there is nothing to lose. So, it's all good. Plus, to help yourself start journaling, do yourself a favor and read this interesting 5-minute article: How to Journal Daily (and Its Surprising Power).
#5 Online Counseling: Options After NEET 2021.
Whether you have qualified NEET or not, there is a way for you to become a doctor in the next five years. To explore your options, watch the 15-minute online counseling sessionūüĎÜ
#6 Student diaries: Shefali Kothari shares what makes LAU a plus!
'ÄúI prefer Lincoln American University because it also gives a chance if you'Äôre not NEET qualified. So, you can study in Lincoln American University for first year, and you can simultaneously pursue your NEET exam as well. So, I think this is plus point for people who want to study in MBBS (at LAU). LAU has four options for clinical rotations in four different countries, which are US, Nepal, India, and Guyana as well. I prefer India, Max Hospital because I want to continue my studies and clinical rotations, and my whole career here only (in India).'ÄĚ 'ÄĒ Shefali Kothari
#7 Newsworthy: Bharat Biotech's Covaxin recognized by Guyana.
After the Australian government recognized Covaxin for travelers, Guyana has also acknowledged India's Covaxin for travelers. A celebratory moment for Indian medicine and the cooperation b/w India and Guyana.
#8 COVID update: The Omicron Variant.
On 26-November-2021, WHO designated the variant B.1.1.529 as a variant of concern and named it Omicron. The features, so far of this variant that have been brought to light by various healthcare workers, research publications and Public Health Experts are enumerated below:
It is much more transmissible (Three times) than the Delta Variant and hence much more infective.
It is likely to evade the existing immune mechanisms.
It is expected to be less lethal in terms of virulence and causing mortality.
The existing RTPCR tests can detect this variant.
The symptomatology is milder requiring lesser hospitalizations. The fever is milder and goes away on its own. There is a lot of fatigue and body pain with a scratchy throat and unlike the parent infection there is no loss of taste or smell. There is often accompanying moderate to severe headache and quite often the symptoms mimic that of the common cold.
The variant has the capability of surpassing the immunity provided by vaccines and previous infections.
The effectiveness of available vaccines may be reduced although vaccination is expected to reduce the severity as was the case with the Delta variant.
COVID appropriate behavior still remains the key to prevent unprecedented outbreaks.
#9 Glass balls versus rubber balls: Life-changing lesson from a speech.
At a graduation speech at Georgia Tech in 1991, Brian Dyson, Former CEO of Coca-Cola, said:
'ÄúImagine life as a game in which you are juggling some five balls in the air. You name them 'Äď work, family, health, friends and spirit 'Ķ and you'Äôre keeping all of these in the air.
You will soon understand that work is a rubber ball. If you drop it, it will bounce back. But the other four balls 'Äď family, health, friends and spirit 'Äď are made of glass. If you drop one of these, they will be irrevocably scuffed, marked, nicked, damaged or even shattered. They will never be the same.'ÄĚ
Lesson: Work is necessary but not at the cost of your family, health, friends, and spirit. While making choices about 'Äúwhat'Äôs my priority?'ÄĚ 'Äď Take extra care of those balls of glass.
#10 Read. Lead. Succeed. 'ÄĒ Handpicked stories for you.
Expand your medical knowledge with these handpicked stories for you:
For more insights on the medical career, visit LAU Blog.
#11 Guyana byte: Know a bit more about Guyana.
A fun fact about Guyana: The mountain from the Disney movie Up was inspired by Mount Roraima, the highest peak of the tepui plateau in South America, where the borders of Venezuela, Brazil, and Guyana meet. [Source: Culture Trip]
Quiz [The answer is hidden in text of this newsletter.]
As an LAU Student, what are the countries where you can do your clinical rotations as of November-2021:
A. Guyana, India, Nepal, and US
B. Guyana, India, Russia, and US
C. China, Guyana, India, and Nepal
D. Guyana, India, North Korea, and US
ūüėāFor A Good Laugh: